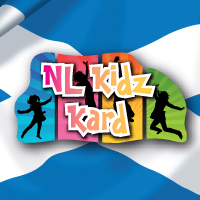 Kidz Kard
Kidz Kard is a ticket to library fun for children aged four to eleven.
Kidz Kard offers children discounts of 50% on rental of DVDs and computer games in libraries across North Lanarkshire. You can even use the card as your library membership card to save carrying two cards around.
Only appropriately certificated items can be hired and the cards cannot be used by anyone other than the child named on the card.
There are many other events and activities you can take part in with your Kidz Kard so why not join today and explore those too.
The YoungScot National Entitlement Card
The YoungScot National Entitlement Card can be used in libraries as your library membership card and to get great discounts.
Check out the latest DVDs and computer games in our libraries and you can save 50% on our already low hire charges, saving you even more money.
Your YoungScot card can be your library card too, so you don't need to remember two cards when you visit.  So why not get it switched over next time you are in the library?
The YoungScot Card also gives you other amazing offers and discounts in shops and venues across North Lanarkshire and beyond, so take a look at what's on offer.
Visit the YoungScot website for more information about the YoungScot card, including how to get one.
One Scotland Card
In addition to using your card for concessionary travel, you can use it for library services. Tell us that you have a concessionary travel card (also known previously as a National Entitlement Card or NEC card) and we will set it up for you to use as a library card so that you don't have to remember to bring 2 cards with you when you visit us.