**In line with government guidance, North Lanarkshire Heritage Centre is closed for the foreseeable future. To read our full statement, please click here. **
15 February – 9 May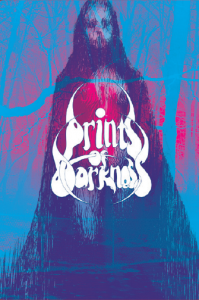 Prints of Darkness
An exciting touring exhibition exploring record cover art is brought to you by Edinburgh Printmakers. The exhibition celebrates the vinyl record as an abiding audio-visual artefact, recalling the golden age of record cover in the thick or post-psychedelia's goth-surrealistic art-nouveau apocalyptic landscape explosio, now being revived in a resurgence of collectable limited edition records with original artwork.
It includes original prints by Scottish artists and a new LP of music be People Like Us, aka international award winning multimedia artist Vicki Bennett.
Kindly supported by Scottish Arts Council.
---
Thursday 9 April 10am – 12pm
Conference Room
Limited Edition! Mono Printing Class
Taking inspiration from the many iconic LP's from the 1960's – 1990's, design and create you very own record sleeve, with a focus on line, motif and colour. Mono printing is a fast and energetic way of making a unique design using acrylic plastic sheets and coloured ink. Make a statement for the 21st Century with wow factor results! To book a place please call 01236 632828.
Look out for more adult and children's printmaking workshops. A hands on primary school workshop called "Making Your Mark" is available in conjunction with this exhibition. Please call 01698 638462 for more information or to book.
---
22 May – 22 August
I Grup Up 80s
Following the success of his hit Star-Wars themed exhibition May the Toys be With You, collector and cultural commentator Matt Fox has devoted himself to exploring a 1980's childhood through the iconic objects of this colourful era during which so much changed.
You will be able to travel through the cultural landscape of childhood in 1980s Britain, revisiting the vibrancy, quirkiness and innovation that symbolised the period. From Betamax to BMX, the Rubik's Cube to the ZX Spectrum, the Thompson Twins to Transformers.
So, like Bill and Ted in their phone booth or Marty McFly in his DeLorean, let us take a most excellent adventure back in time to revisit ten remarkable years. The greatest decade in the history or history – the 1980s!
---
5 September – 7 November
WW100 Scotland Art Installation – What Do We Learn From All This?
A unique installation telling Scotland's WW1 story from the perspective of 100 young artists from across the country comes to North Lanarkshire.
Combining traditional printmaking with innovative technologies, the exhibition tells 100 stories gathered from all corners of Scotland. Each unique artwork is arranged in a map of Scotland, with augmented reality technology allowing you to explore each story in detail.
From individual acts of valour on the battlefield to naval tragedies off Scotland's coast, from the thousands of workers filling factories at home to the brave members of the Scottish Women's Hospitals at the Western Front, from innovations in areas such as surgery and aviation to the enduring work of poets and artists in the trenches, the exhibition takes in a wide range or stories and subjects that will resonate with everyone.
Creative art workshops available at weekends and school holidays also.
Join us for "The Big Draw" this October when you can get in touch with your creative side. Look out for drawing, painting and printing activities for all ages!
Discover the First World War through art and objects in our "Lanarkshire's Great War" workshops available for primary and secondary pupils. Call 01236 638460 to book.
---
21 November – 24 December
Christmas Tales
Christmas Tales is a magical, sensory exhibition for little ones to explore. There are stories and soft play, colourful lights and seasonal fun to be had. Just bring your imagination!
Christmas themed workshops are available for schools and early years throughout December as well as Children's Elf workshops every Saturday.