North Lanarkshire Heritage Centre will reopen on Thursday 10 September
---
5 September – 7 November
WW100 Scotland Art Installation – What Do We Learn From All This?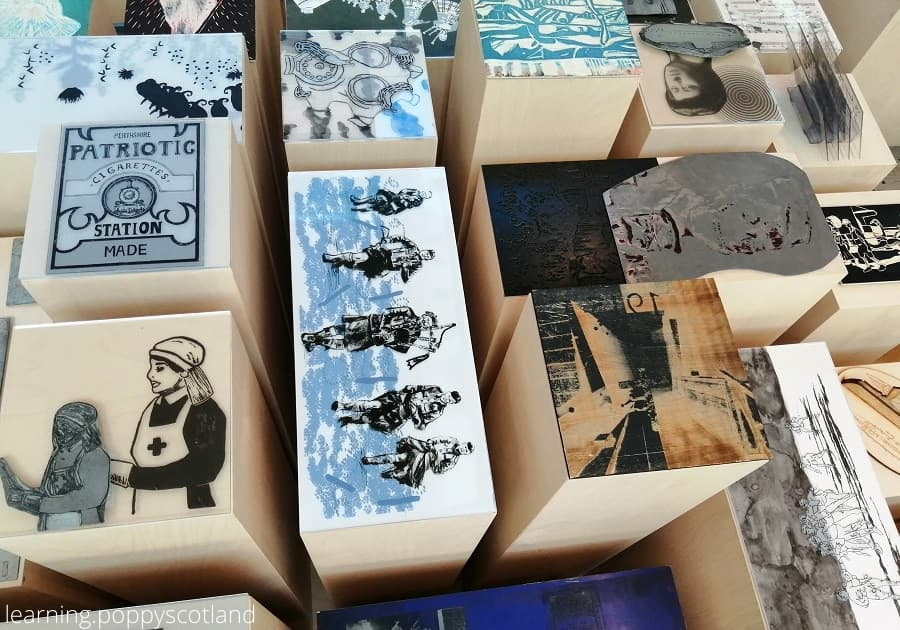 A unique installation telling Scotland's WW1 story from the perspective of 100 young artists from across the country comes to North Lanarkshire.
Combining traditional printmaking with innovative technologies, the exhibition tells 100 stories gathered from all corners of Scotland. Each unique artwork is arranged in a map of Scotland, with augmented reality technology allowing you to explore each story in detail.
From individual acts of valour on the battlefield to naval tragedies off Scotland's coast, from the thousands of workers filling factories at home to the brave members of the Scottish Women's Hospitals at the Western Front, from innovations in areas such as surgery and aviation to the enduring work of poets and artists in the trenches, the exhibition takes in a wide range or stories and subjects that will resonate with everyone.
Creative art workshops available at weekends and school holidays also.
Join us for "The Big Draw" this October when you can get in touch with your creative side. Look out for drawing, painting and printing activities for all ages!
Discover the First World War through art and objects in our "Lanarkshire's Great War" workshops available for primary and secondary pupils. Call 01236 638460 to book.
---
21 November – 24 December
Christmas Tales
Christmas Tales is a magical, sensory exhibition for little ones to explore. There are stories and soft play, colourful lights and seasonal fun to be had. Just bring your imagination!
Christmas themed workshops are available for schools and early years throughout December as well as Children's Elf workshops every Saturday.