Latest Release
Abominable (Rated U)
Friday 11th Oct – Sun 20th Oct, times vary.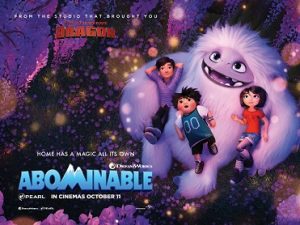 DreamWorks Animation and Pearl Studio's co-production Abominable takes audiences on an epic 2,000 mile adventure from the streets of Shanghai to the breathtaking Himalayan snowscapes. When teenage Yi encounters a young Yeti on the roof of her apartment building in Shanghai, she and her mischievous friends, Jin and Peng, name him "Everest" and embark on an epic quest to reunite the magical creature with his family at the highest point on Earth.
Event Cinema

Billy Connolly: The Sex Life of Bandages   (Rated 15)

Sunday 8th Dec, 7pm

Hailed as the UK's most influential comedian of all time, legendary Scot Billy Connolly is coming to cinemas with this brilliant show from his final stand-up tour. Recorded in 2015, during the Australian leg, this whip smart routine is a riotous journey filled with outrageous tales and blistering observations of everyday absurdities.

Screening as a special one-night-only event, Connolly will also muse upon his career, life and legacy in a deeply personal interview filmed exclusively for cinema audiences.

Approximate running time- 2 hours 10 minutes
Cinema Live: Dracula – Northern Ballet Live  (Rated 12A)

Thursday 31 Oct, 7.15pm

Broadcast live to Airdrie Town Hall cinema for Halloween, Northern Ballet's thrilling adaptation of Bram Stoker's classic horror story is a unique blend of gripping theatre and sensuous dancing.

Created by Northern Ballet's Artistic Director David Nixon OBE, with atmospheric music by Alfred Schnittke, Avro Part, Michael Daugherty and Sergei Rachmaninov, Dracula is a thrilling adaptation that will leave you thirsty for more.

Approximate running time 2 hours with one interval.