3 May – 26 July
CultureNL Creative Writing Class Work
High Days and Holidays
May has traditionally been the month that heralds the start of the holiday season.  The month itself, for many people, offers workers and families the opportunity to enjoy two long weekends of public holidays that encourage days out, short breaks or just simply getting out and about more locally. Holidays are to be anticipated, treasured and most of all enjoyed. CultureNL's Creative Writing Groups have responded to the 'High Days and Holidays' theme with the work on display in this exhibition.
---
23 August – 1 November
Olivia MacDonald
Olivia MacDonald graduated from th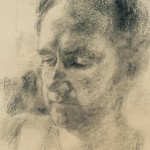 e Painting and Printmaking Department of Glasgow School of Art in 2016. Central to her art practice is working observationally from life. She is interested in the immediacy of the intuitive response which comes through drawing from life.
Olivia says, "I feel drawing is an activity closely linked to the sense of touch, through the performative movement of the body establishing a sensory and spacial sense of contact with subject and place, and in the tactile response of the material used, reflective of the process."
Olivia is interested in exploring this sense of connection and intuitive expression found through the material process of drawing to reflect one's relationship to the world.
---
15 November – 10 January 2018
Hers & His
Lillias Douglas / James Jordan
Lillias Douglas is a graduate of Glasgow School of Art, with 20 years' experience as a secondary school art teacher. She's had numerous, very successful exhibitions throughout Lanarkshire. Currently, Lillias is interested in working with a variety of materials and techniques such as palette knife work, mixed media, and coloured pencil.
Jim Jordan has been painting for 10 years and his work can be found in numerous Lanarkshire venues, including several local private galleries. Jim has undertaken many successful solo, collaborative and group exhibitions, and his talents, matched by extensive sales, have been readily noted throughout his exhibiting years. He currently works in soft pastels, oils and mixed media
---
For enquiries relating to exhibitions in this venue please contact Anne Louise Kieran, Visual Arts Officer on 01236 856228 or email kierana@culturenl.co.uk