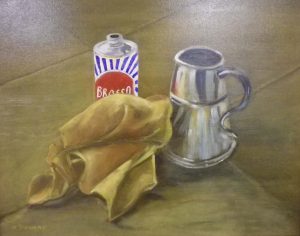 21 January – 15 April 2019
Heather Stevens
CultureNL is delighted to host an exhibition of work by local artist Heather Stevens. Heather is eighty-six years old and has attended the CultureNL art class at Charlotte Toal Centre since it first began, almost 20 years ago! Heather works mainly in oils capturing rich textures and atmospheric colour exploring both figurative and natural themes. She describes the medium as being 'freer', allowing her to express the visual qualities that she is drawn to within the subjects. Attending the art class has developed Heather's love of painting and has also allowed her to meet some of 'the nicest people'.
---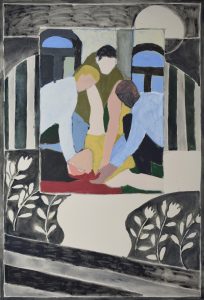 13 May – 29 July 2019
Harry Clitheroe
See the work of Harry Clitheroe, a 2018 Glasgow School of Art graduate. Harry Clitheroe's paintings are primarily concerned with the relationship between figuration and abstraction. Using film stills, mainly from the horror film genre, new narratives are generated. Figures are taken from multiple images and are placed within new, reconstructed contexts. Harry said: "The process of painting itself further abstracts the picture. Bodies and objects become abstract forms and the application of colours and shapes further confuse the nature of the pictorial image. This allows the viewer to fabricate their own imagined idea of what is taking place."
---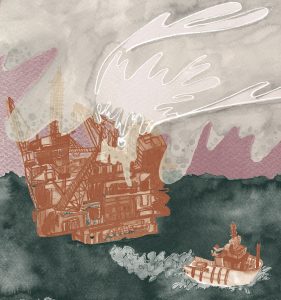 19 August – 28 October 2019
Jasmine Holt
Artist and CultureNL art tutor, Jasmine Holt, is pleased to present her latest work in this
exhibition. Having graduated from Duncan of Jordanstone College of Art and Design in 2017, Jasmine is based in a small studio in Glasgow's east end, where she creates work as a freelance illustrator. Jasmine's loose drawing style fuels her main focus which is to create children's books. Drawing from life, Jasmine seeks inspiration from the environment and community around her to imagine engaging visual stories and to create unusual characters. With a strong passion for the process of making, she draws all of her images by hand and has a keen interest in making work using printmaking,
laser-cutting, textiles and ceramics.
---
---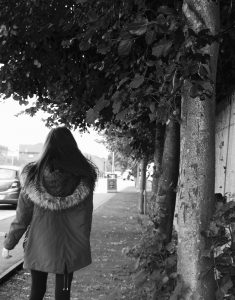 11 November – 16 December 2019
Leaving – Creative Writing Class Work
CultureNL's Creative Writing Groups have used the theme 'Leaving' to create an exhibition of work that showcases their talent. We've heard a lot through the news and media about 'leaving' in the past few years whether that be Brexit, political careers, asylum seekers and refugees being deported or natural disasters driving people from their homelands. 'Leaving' can be an emotive subject area on a world, local or personal level and as such is a great theme for writers to explore.
---
For enquiries relating to exhibitions in this venue please contact Anne Louise Kieran, Visual Arts Officer on 01236 856228 or email kierana@culturenl.co.uk