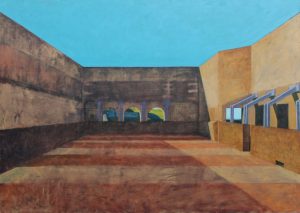 **In line with government advice, Motherwell Concert Hall is closed for the foreseeable future. To read our full statement, please click here. **
20 January – 20 April
Charlie Yates
A recent graduate of Glasgow School of Art, Charlie is now based in Glasgow and Edinburgh. His work is made up of observations and partially recalled places, objects and memories in the form of sketches, photographs and verbal recordings. He attempts to re-contextualize these experiences, the fragmented nature of memory is suggested within his paintings
Through recent research, he discovered Lambay, a private island off the East coast of Dublin. On a trip to the island he came across an abandoned 'Real' tennis court and the desolate nature of this space heightened his own sense of isolation. A burgeoning interest in this unusual place stimulated an extended body of work, some of which we are fortunate to have on display in North Lanarkshire.
---
11 May – 27 July
Culture NL Photography Class Work
We are pleased to host a new photographic display produced by members who attend Culture NL photography classes. The work showcases a broad range of subjects from portrait photography, reportage, still life, landscape and more. Not to be missed, this exhibition showcases a wealth of talent from North Lanarkshire
---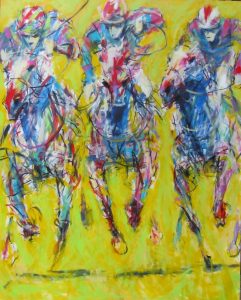 17 August – 26 October
Alasdair Banks
Alasdair is an artist based in Glasgow best known for expressionistic interpretations of horse racing. He strives to capture the energy, movement and drama in his work and has developed a distinctive style that is unique in the genre of contemporary equine art. He has applies this style to cityscapes, motor racing, boxing and other sports. Having shown his work with Culture NL some years ago, Culture NL is delighted to support a showing of Alasdair's more recent work
---
9 November – 21 December
Sean Patrick Campbell
A graduate from the Photography Department, Glasgow School of Art 2019, Sean Patrick is an artist/photographer based in Glasgow. Through his lens based practice he investigates the relationship between landscape and mythology in a personal, cultural and political context. In an age of human dominance over nature, cultural traditions are often exposed as flawed, inaccurate and complete. Through his work, Sean Patrick asks, "How do we write the collective story of our times while desperately writing our own personal narrative?" His work seeks to reflect this difficulty in creating imagery of a time and/or place that feels unreal, uncanny and unsettling. Underlying his work however, is a resistance and hope for positive change.
---
For enquiries relating to exhibitions in this venue, please contact Ann Louise Kieran, Visual Arts Officer on 01236 856228 or email kierana@culturenl.co.uk