Welcome to our community arts programme, North Lanarkshire's Arts and You for Autumn/Winter 2021.  We're thrilled to be back up and running again – with the majority of our programme returning to face to face classes. We hope you will find something to inspire you to join us.
Our classes offer local, value for money access to a wide range of quality arts activities, workshops, and events that we already know you enjoy. It's your local arts programme and we want to share what we offer as widely as possible across the North Lanarkshire community.
We have a great team of Arts Development Officers who are passionate about all things arts. So, whether you are interested in performing, playing an instrument, visual arts or photography – we have something for everyone! We hope you will find a class to inspire you to join us.
Get creative. Get involved. Get back to class!
We are currently offering face to face classes in: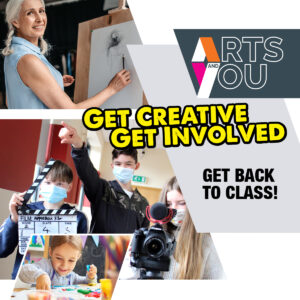 We also have online classes in:
Check out our YouTube Channel for some exciting online content for you to do at home.
Find out more about:
If you'd like to keep up to date with our arts development news as we prepare to kick start our programme, please join our mailing list.
How we use your data
To carry out our functions and to provide you with services we may collect, use and store your personal information.
Privacy Policy for Community Arts Services
Contacting us
When you give us a call, please leave your name, contact telephone number and note of the class on our voicemail and one of the team will give you a call back.