Welcome to our community arts programme, North Lanarkshire's Arts and You for Autumn/Winter 2021.
We're thrilled to be back up and running again with face to face classes. We've had some great feedback throughout term 1 and have implemented some changes to ensure accessibility for all in term 2 and 3. You'll notice your of choice class can now be booked week to week. If you'd still like to book the block, simply select all available weeks. If you'd like to pay by the week, that's ok too – just as long as you remember to book in advance.
We have a great team of Arts Development Officers who are passionate about all things arts. So, whether you are interested in performing, playing an instrument, visual arts or photography – we have something for everyone! We hope you will find a class to inspire you to join us.
Get creative. Get involved. Get back to class!
We are currently offering face to face classes in: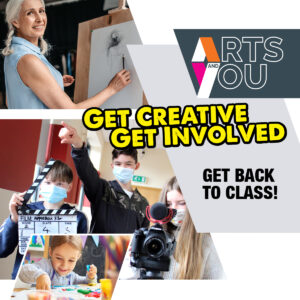 We also have online classes in:
Check out our YouTube Channel for some exciting online content for you to do at home.
Projects
Find out more about:
If you'd like to keep up to date with our arts development news as we prepare to kick start our programme, please join our mailing list.
How we use your data
To carry out our functions and to provide you with services we may collect, use and store your personal information.
Privacy Policy for Community Arts Services
Contacting us
If you would like to contact us for more information or to book a class, please call us on 01698 403120 and select option 2 (box office ticket bookings), or send us an email.