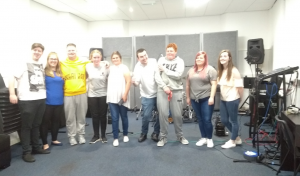 7 October – 16 December 2019
Barnardo's Positive Destinations – Creative Faces Project
This exhibition gives an overview of Barnardo's Positive Destinations Creative Faces project. Barnardo's successfully bid to the Life Changes Trust for funding to support a new project called Creative Faces. The project offered free workshops around fashion, photography and music for people aged 14-26 years of age, who had experienced the care system. Through Creative Faces, young people learned new skills that could turn into a hobby or interest. Creative Faces music workshops saw participants write their own song, create a band name and album art, learn about recording studios and create a music video. Creative Faces held a music showcase performance event in March 2019. Creative Faces photography workshops enabled young people to work with professional kit and explore photography and animation creatively. The fashion workshops saw the young people design and create fashion accessories.
27 January – 16 March
Moira Anderson Foundation
This exhibition gives an insight into the work of the Moira Anderson Foundation. The charity supports adults and children affected by childhood sexual abuse. They support people through trauma and help them live their lives to the full by offering a range of services including counselling, group work and complimentary therapies.
30 March – 1 June
HOPE for Autism
HOPE for Autism is a registered charity that has been offering pre and post-diagnostic support to families of autistic children and young people since 2002. Families can access emotional and practical support and advice at an point during their parenting journey as well as access a range of autism-related training and information sessions, parent support groups and support from staff at important decision-making meetings. They use a whole family support approach which helps them to reach siblings and other important family members such as grandparents who are also encouraged to attend training sessions.
The art work on display gives a fascinating insight into the work of the charity and how families are affected by autism.
15 June – 7 September
COPD Exhibition
This exhibition explores the work of the Airdrie Local Area Partnershop teams in investigating the prevalence of COPD (chronic obstructive pulmonary disease) COPD is an umbrella term for a number of conditions which cause long-term damage to the lungs. Their work involves early prevention and intervention to ensure people get the right support and help slow down the effects of COPD to keep people living with the condition healthier for longer.