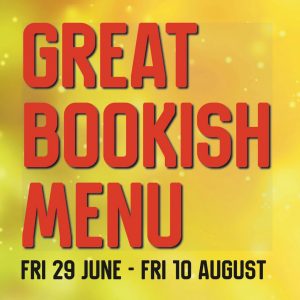 A reading challenge for adults.
6 books.
6 themes.
6 weeks of summer.
For many years now, CultureNL Libraries have celebrated reading throughout summer by getting kids involved with the Summer Reading Challenge. But now it's time for the adults to pick up a book and show what they are made of during a summer of reading.
We are challenging all our adult library members to get involved with the Great Bookish Menu, our reading challenge for adults. Here is the challenge:
You have a 6 weeks to read 6 books. Friday 29 June – Friday 10 August.
The 6 books must tick one of the following themes:

Read a classic book
Read a book by your favourite author
Read a book that's been translated into English from another language
Read a book that's been shortlisted for an award in the last 5 years
Read a book set in a place you'd like to visit
Read a book recommended to you by a friend

Unfortunately there is no pens, stickers and bookmarks along the reading journey for adults, because, well you are adults! Why would you want scratch and sniff stickers?
But… there will be a prize draw for everyone who completes the challenge. The prizes are:

First prize – £50 book token plus a family ticket to this year's CultureNL panto, Aladdin.
Second prize – £30 book token
Third prize – £20 book book
Are you brave enough to accept the challenge? If so, speak to a member of staff at your local branch from Friday 29 June onwards and register to take part.