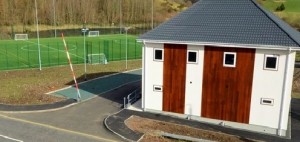 Opened in 2012 the £1 million sports facility boasts state of the art enclosed 3G football pitch with stadium quality lighting.
The establishment of the facility was driven by the local residents and financed by North Lanarkshire Council. The Hub encourages outdoor multi-sport pursuits and develops interaction between clubs and schools. This facilitates and promotes participation and allows development within sports whilst offering potential for the community to participate in various sporting activities and pursuits.
Facilities
Facilities are focused around the full size 3G football pitch with enclosure and stadium quality floodlighting.
The Hub has a two floor community pavilion with changing room's showers, meeting area, and lift. The additional goalposts and line markings allow conversion to 3 smaller football pitches to maximise use and flexibility.

Transport
The Antonine Hub is very well situated for transport, located next to the modernised Croy Train station it can also be accessed by bus.  The facility has its own car park is located close to public parking.
Disabled Access
The facility is accessible to persons requiring disabled access via the ground floor the facility also has a lift to allow easier access to the second floor and meeting rooms.
Conditions of Hire, Cost of Hire and Booking Form
Cost of Hire information, Conditions of Let and Booking forms are all available to download at the right of this page. Alternatively, you can contact our office on 01236 632777.
Address
Antonine Community Sports Hub, Constarry Road, Croy