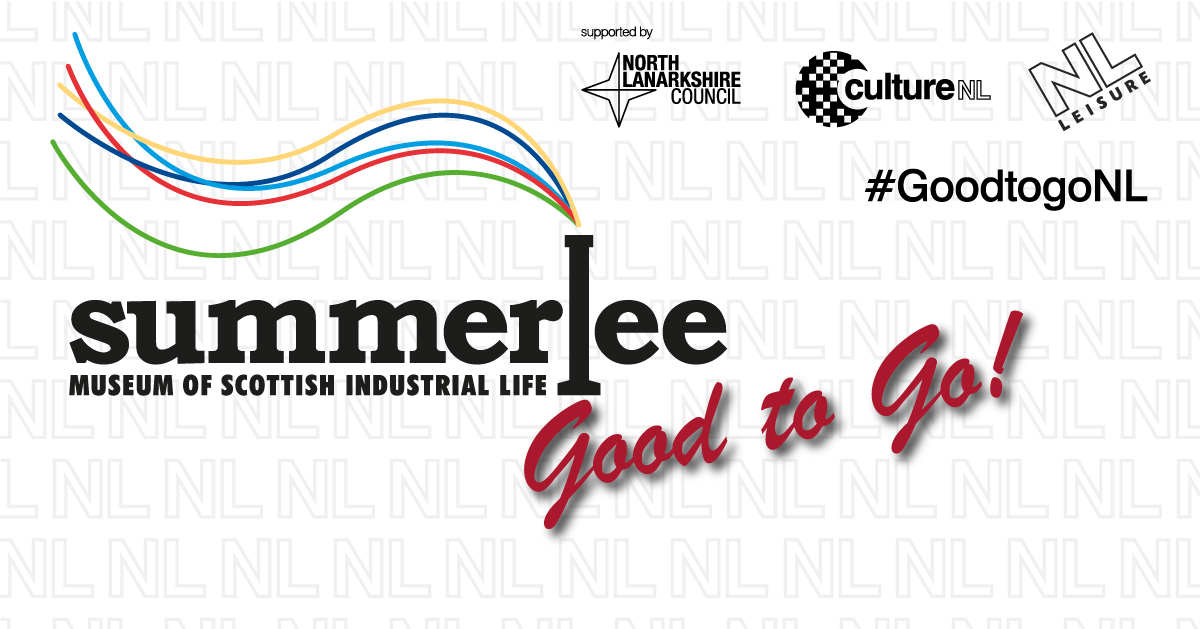 Summerlee welcomes you to its 20 acre site with free admission and all-weather facilities. It all adds up to a belter of a family day out!
You must book in advance to visit Summerlee Museum. For full details, please click here.
Situated in Coatbridge, an important centre within Scotland's 'industrial heartland', Summerlee Museum of Scottish Industrial Life is built on the site of the old Summerlee Ironworks, and incorporated the main workshop of the former Hydrocon Crane factory. Click here for more information about the history of Summerlee Museum.
Summerlee received a £10 million redevelopment in 2008, and today the museum is a modern and thriving visitor attraction. Rated a four star attraction by Visit Scotland, it's the perfect setting for an unforgettable family day out.
From our amazing array of social history and interactive displays to our award-winning play park – there's so much to see and do. Take a ride on the tram, experience the mine tour and miners' row, refuel at the café and take home a lasting memory from our visitor shop.
Why not explore the site in a unique way by downloading the Global Treasure app before you visit? Use the app to find clues, collect rewards and learn loads! Click here to download for free.
Glasgow's Last Tram Restoration Project
The "last tram restoration project" aims to restore Glasgow Coronation Tram, No. 1245 built in 1939. Restoration started in 2011, at Summerlee Museum where our volunteer team workshop is based. Find out more about the project by visiting their website.

What's On at Summerlee?  
Click here to find out more.
You must book in advance to visit Summerlee Museum. For full details, please click here.
Opening Hours
Wednesday – Sunday, 10am – 12pm and 1pm – 3pm
Summerlee Museum is free to visit.
Contact the museum on 01236 638460.
We will be closed on 25&26 December and 1&2 January.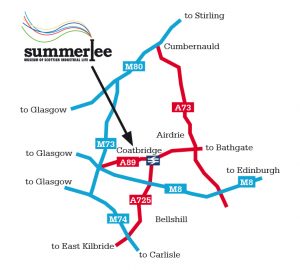 Finding Us
Summerlee Museum of Scottish Industrial Life
Heritage Way, Coatbridge,
North Lanarkshire ML5 1QD
Culture NL encourages a greener form of travel. Reducing your carbon footprint by taking public transport is easy as Summerlee Museum is a only short walk from Coatbridge Sunnyside and Coatbridge Central Train Station. For travel information, please visit www.traveline.info.
We have a small car park located at Summerlee Museum which includes six disabled parking spaces near the museum entrance. On event days and during school holidays, we expect the site to be very busy. You'll find additional car parking at the Time Capsule – SatNav: ML5 1DL.
The museum is also on the National Cycle Route 75 and there are bike parking facilities at both gates – no bikes can be ridden with in the museum gates.
Click here for more information on parking and travel.
Accessibility

Wheelchair accessible tram
Exhibition hall fully accessible
Lift to gallery space and Ironworks view pod
No dogs (except assistance dogs) are permitted on site.
Please do not cycle or ride scooters/skateboard within the museum grounds, due to tramlines. Use of bike racks is at owner's own risk.
Please do not fish in the canal.
Contact us
 Phone: 01236 638460
Email: info@culturenl.co.uk
Book an event at Summerlee
Want to have your birthday party at Summerlee? Click here for more information!
Interested in hiring our conference room? Click here for more information.