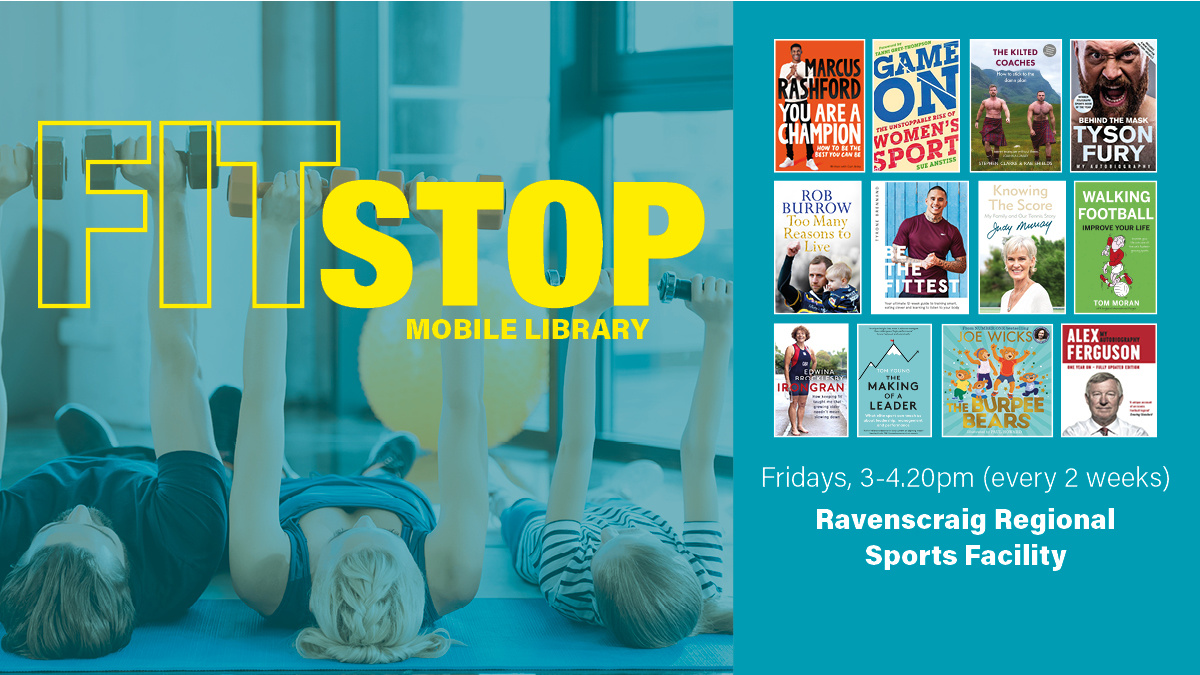 Fitness in Mind, Body and Soul
Understanding health, nutrition and wellbeing alongside your physical journey to fitness is very important. FITstop can offer you just that!
It's a new mobile library stop at Ravencraig Regional Sports Facility every 2 weeks on a Friday from 3pm – 4.20pm.
The mobile library will be especially equipped with children's and adult books around sports and fitness including motivational titles, biographies, nutrition and physiology as well as an enhanced children's section with popular fiction and non-fiction.
---
Launch Event
Join us at Ravenscraig Regional Sports Facility on Friday 17 June, 2pm for the launch event of FITstop followed by our first official stop from 3pm – 4.20pm.
There will be kids activities and refreshments, opportunities to discover more about the library service and more. Come along and have fun with us.
---
Dates
Catch the FITstop on your next visit to Ravenscraig Regional Sports Facility on the following dates:
17 Jun, 24 Jun, 8 Jul, 22 Jul, 5 Aug, 19 Aug, 2 Sep, 16 Sep, 30 Sep, 14 Oct, 28 Oct, 11 Nov, 25 Nov, 9 Dec, 23 Dec
FITstop Location:
| | | |
| --- | --- | --- |
| Day | Time | Location |
| Friday | 3pm – 4.20pm | Ravenscraig Regional Sports Facility |
---
The Fit List
To support the FITstop, we've created a great selection of titles covering books, eBooks, eAudiobooks and eMagazines that are aimed at supporting you on your journey to physical health as well as improving your mental health too.
View the Fit List here to see what you could read or listen to.