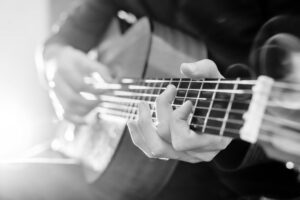 Houldsworth Centre, Kenilworth Avenue, Wishaw ML2 7LP
Tel 01236 632828
Please note, this venue is currently closed.
Wishaw Musicworks is located within the library, ground floor of the Houldsworth Centre.
Wishaw Musicworks is a music facility that hosts a variety of music classes and enables individuals of all ages and abilities to learn keyboard, guitar and percussion.
Classes are taught in the following subjects: children and adult guitar, keyboard for older adults, bass guitar, and percussion classes for children. Classes are also run for individuals with learning or physical disabilities.
There is disabled access to the venue and disabled toilets available.
Service Standards
Read our Service Standards.
Access Policy
Read our Disability Access Policy.
Booking Arrangements
You do not need to book a place on the classes, they work on a first-come, first-served basis.  All you need to do is fill in a short registration form when you get there.  Feel free to contact us to check availability.
Transport
Wishaw Musicworks (within Wishaw Library) is accessible by public transport and a bus stop can be found 30 yards from the venue. It is advised that timetable directions be sought before travelling.  For patrons who are travelling to the venue by car there are approximately 40 parking spaces available.