CultureNL Arts Team here! Welcome to the fourth edition of our new bulletins! Here's a round- up of what's been happening in our venues, as well as a look forward to our up-and-coming events.
Sign up here to keep up to date with the latest arts news via email alert.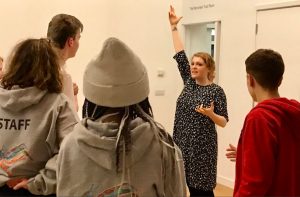 CultureNL Apprentice gets VOCAL about conquering New Territory
Celebrating the Year of Young People, CultureNL modern apprentice Nicole Cooper has been reflecting on her work with the Young Arts Leader Training Programme, New Territory, at the VOCAL Scotland event.
She said: "New Territory is a Young Arts Leader Training Programme which I have been involved in since January. The programme complimented my work as a Modern Apprentice for CultureNL, as it enhanced my skills and confidence, meaning I am able to make the most of every opportunity given to me within my apprenticeship."
Nicole recently attended a VOCAL Scotland event where a number of cultural organisations, including Glasgow Life and Museums Galleries Scotland, came together to discuss the work they had done and their success stories in line with the theme of 'Year of the Young People'.
Nicole said: "As Youth Theatre Arts Scotland's New Territory Programme is stemmed from 'Year of the Young People', I went along to talk about my experience on the programme.
"The audience seemed keen to learn about my experience on the Programme and hear it from someone who actually experienced and benefitted from it.
"The VOCAL event was a great experience, and it opened my eyes to what is out there for young people looking to develop their skills or start a career within the cultural sector."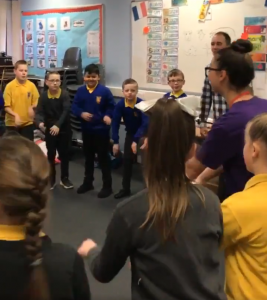 Create Project Builds Second Block
Following completion of the first block of its multi-arts Create Project, St Timothy's Primary School in Coatbridge has started its second block of work.
During this block staff are delivering music, drama and visual arts to the entire school, in workshops that include singing, playing ukulele, drawing, painting and acting. This is a lot of work considering there are more than 400 pupils in the school!
The community arts team began working in St Timothy's Primary School in Coatbridge in August on a multi arts project supported through Pupil Equity Funding.
CultureNL Arts Development Officer, Deborah McArthur said: "It was great to pop into St Timothy's Primary School today, to check in with Block Two of the St Timothy's CREATE project. Only two weeks in, and the young people can already play a Taylor Swift song on the ukulele, I am so impressed!"
CultureNL Arts Manager, Irene Halliday said: "Initial feedback from the first of three, six week blocks, of arts activity, from pupils and staff has been really positive, and lots of good work has been created already. Our arts staff are also reporting being bowled over by the great enthusiasm and skills being shown by pupils on a daily basis."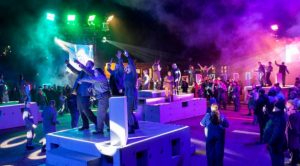 The SHIFT Legacy grows with NL Collective
After the success of last year's SHIFT project, which saw CultureNL and National Theatre of Scotland use arts to explore local people's  working lives, CultureNL is continuing on the SHIFT Legacy, with its NL Collective drama company.
Led by CultureNL Arts Development Officer, Deborah McArthur, NL Collective was created as a creative outlet for the community members of the SHIFT cast.
After eight weeks of skills based workshops, NL Collective developed improvisation, characterisation and performance techniques.  Now in Term two, NL Collective has workshops lined up on script work, voice and movement.
NL Collective also welcomes new members, and encourages anyone interested in joining to contact  Deborah on 01236 856246 or email mcarthurd@culturenl.co.uk.