CultureNL Arts Team here! Welcome to the latest edition of our new bulletins!
Sign up here to keep up to date with the latest arts news via email alert.
Activities to keep the family entertained
If you're looking for some creative ideas to keep the family entertained then we've got you covered. Here's a list of 12 things you can do to stay creative during lockdown.
Promote good vibes only by writing a list of five positive things happening in our world right now.
Search your home for three interesting objects to photograph or draw.
Explore the outdoors by collecting materials from the garden or whilst out for a walk to create a 3D collage.
Create your own comic book with characters, a mission and a resolution.
Create your own cooking programme by filming yourself baking or cooking and perform as though you're on a show while you work.
Take a break from technology and minimise your screen time by reading a chapter of your favourite book before you go to bed.
Play a game of 'Would you rather?' to spark some interesting conversations and inspire some creative questions.
Schedule in some 'Think Time' by writing a diary or a blog to write down your thoughts and creative ideas.
Make a timetable of things you did today or things you would like to do tomorrow. This will encourage you to pause and reflect on your day and how you're feeling.
Perform three acts of kindness.
Create your own news reports by setting up a studio and recording yourself reporting your own exciting news.
Write a list of six things you're good at and teach a family member one of your brilliant skills.
CultureNL Arts Development officer joins YTAS Programme
Perfecting her craft during the summer break, CultureNL Arts Development Officer, Deborah McArthur joined the YTAS Directors Development programme.
Alongside seven other performing arts professionals, Deborah is engaged in the three part project.
The first part, Inspire, saw the group enjoy workshops and shows at the Edinburgh Fringe to stimulate their practice.
The second part, Focus, will feature an intensive weekend of creative work in September, to fine tune ideas.
The third part, Share, offers an opportunity for the group to showcase an idea, in Emergence, a scratch performance at Traverse Theatre, in November
Smash Social Media Content with these Classes
Ever wondered how some people post vivid videos and powerful podcasts on social media? Wonder no more! CultureNL is launching Technology for Communicating Workshops on Sunday 1, 8 and 15 September, 1.30- 4.30pm, at Summerlee Photomedia Studio.
Perfect for those 16 and over, the workshops will guide participants through technology for making films, animations and podcasts, in three, three hour sessions.
Students can bring their own device, or use those provided, paying £10 per session or £25 for all three.
Don't miss out, book a place now on 01236 632828.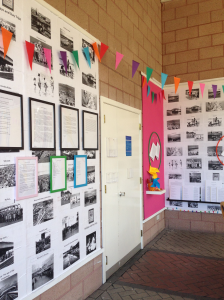 Creative Writing Class Show Rhyme and Reason
Showcasing in North Lanarkshire Heritage Centre, from 14 September – 9 November is CultureNL Creative Writing exhibition Rhyme and Reason.
Exploring poetry through the eras, the exhibition displays the work of CultureNL Creative Writing Class, alongside historical local poetry from North Lanarkshire's archives.
If this sounds like something a school you know would like to explore, then they can book their primary or secondary pupils into workshops by phoning 01236 638460.
CultureNL Supports VAMCA Small Grants Scheme
Supporting North Lanarkshire artists, CultureNL and Creative Scotland are working together to offer local art and craft makers small grants, of between £500 to £1500.
VACMA Grants will be available to support artists at all stages of their career, through partnership funding from Creative Scotland, National Lottery funding and a partnership with Scotland's Local Authorities, Trusts and other agencies.
The deadline for receiving applications is Tuesday Oct 8th at 5pm.
Download the VACMA application documents here… 
Applications should:
Download the application form
Use word processing software to fill it in
Save the document
Email the document, as an attachment to vacmascheme@culturenl.co.uk
Mind Music Soul Intergenerational Class Comes Back
Following its successful pilot in May, CultureNL is happy to welcome back the Mind Music Soul Intergenerational Class, which will take place in two sessions, at Summerlee Museum, one on 20 August 11am-12pm and one in September (date to be confirmed).
The 90 minute music classes will encourage young and older participants to sing together, listen to music, play along and, most importantly, meet new people!
Intergenerational class dates will be posted on the CultureNL Arts Facebook page, later in the month facebook.com/CultureNLArts/
Clare Adamson MSP Scans Local Arts Scene
Backing the local arts scene, Clare Adamson MSP met with CultureNL Arts Development Officer, Ann Louise Kieran, on 29 July, to view Motherwell Concert Hall's Harry Clitheroe exhibition.
The visit came as part of the nationwide Art in Action campaign, organised by Scottish Contemporary Art Network (SCAN) in which public figures champion visual artists' work in local communities.
Over the summer recess SCAN is inviting MSPs to see for themselves the positive impact visual art has in their constituencies, sharing experience with the hashtag #ArtInAction.
Ann Louise Kieran said: "It was lovely to meet with Clare and to chat about the work on display by Glasgow School of Art graduate, Harry Clitheroe.
"Culture NL curates an annual exhibition programme across three venues showing a broad range of different art-forms by graduates, amateur and professional artists, from all ages and backgrounds, on both a local and national level."
See more about the Art in Action campaign here.
Applebox Film Club Make Waves
Making waves and memories, Applebox film students took to the water with Cumbernauld Sailing Club on 2 July, for an aquatic film shoot.
The group of eight overcame the challenges of working on and around water, to perfect their in-motion film techniques.
Photomedia Arts Development Officer David Peace said: "The group thoroughly enjoyed being half immersed in water and taken for a sail. They had a fantastic session with tutors Alice and Martin, who tried to keep dry but failed miserably!"
If you know an 8 – 13 year old who would like to try film editing with Applebox, then get more information here .