CultureNL Arts Team here! Welcome to the sixth edition of our new bulletins! Here's a round- up of what's been happening in our venues, as well as a look forward to our up-and-coming events.
Sign up here to keep up to date with the latest arts news via email alert.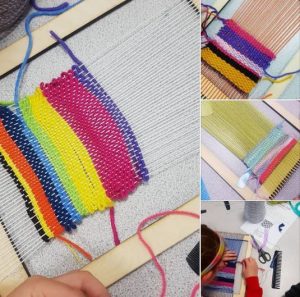 Get your Weave on with our Textile Tutorial
Drawing closer every day is CultureNL's adult art workshop The Wonderful World of Weaving, coming to Summerlee Museum on 16 March from 10am – 4pm, costing £30/ £27 concession.
During this one-day workshop, textile artist Amy Bond will teach participants to set up a hand frame loom to practice techniques, such as plain weave, twills, herringbone, basket weave, hand manipulated structures and tapestry; making a wall hanging to take home.
Amy Bond said: "I'll be at Summerlee Museum  on Saturday 16 March, delivering my first weaving workshop with CultureNL. I'm very excited to be taking a class in North Lanarkshire! It will run from 10am to 4pm, so plenty time to get lots of weaving done and make your own woven wall hanging to take home!"
Arts Development Officer, Anne Louise Kieran said:  "This is CultureNL's first weaving workshop with local textile artist Amy Bond. In this one day masterclass, participants will explore texture and pattern whilst learning traditional weave techniques. An immensely therapeutic activity, if you'd like to book a place, please call 01236 632828."
For more information or to book your place call 01236 632828.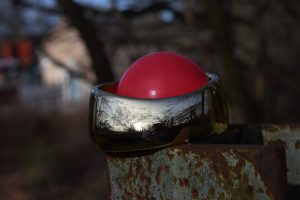 Good Evening Promised at Photography Workshop
Welcoming novice and skilled photographers, Summerlee Museum Photomedia Studio is launching its After Hours at The Museum, a 15+yrs photography workshop, running 21 March 6-8pm, costing £10/ £9 concession.
Led by one of CultureNL's photography tutors, participants can explore the character of the museum objects, learn how to use natural evening light and introduce balanced portable flash or constant source lights for added effect.
Photomedia Arts Development Officer David Peace said: "This workshop is a really great opportunity to have the place to yourselves for Photography pursuits. Participants get time to quietly look and compose images.
"We have timed it for when the evening light is creating a very intriguing array of shapes, and revealing 'still life' style sets and unusual hidden depths to the Museum."
For more information or to book your place call 01236 632828.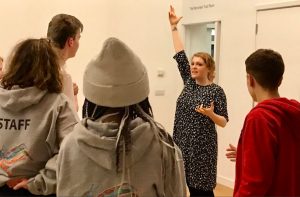 Youth Theatre Student Joins New Territory
Following in the foot-steps of previous CultureNL arts participants, Airdrie Youth Theatre student Katie Wightman has been awarded a place on the New Territory project.
Delivered by Youth Theatre Arts Scotland (YTAS) this year-long programme establishes an exciting pathway for nine 16-24 year olds to realise their potential as Young Arts Leaders, assisting workshops within their own communities.
This is the second year of the project following on the success of 2017/2018 Cohort of young leaders. Throughout 2019 the Young Arts Leaders will each develop their own artistic practice and their leadership and employability skills to support innovative arts-based projects in their communities.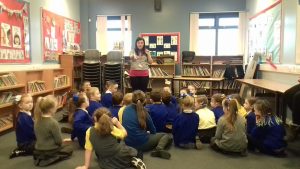 St Timothy's CREATE project
Going out on a high, Culture NL Arts Development team have concluded their work with St Timothy's Primary School CREATE project. In Coatbridge since August 2018, 6 artists across 3 art forms have delivered an 18 week project with P1-P7 pupils.
This multi-disciplinary arts project has enabled every pupil to take part in music, drama and visual arts workshops enabling them to tap into their creative sides and express themselves through a variety of mediums.
This project has been a huge success and pupils have been able to work with professional artists and explore a variety of techniques and develop skills in clay modelling, portrait drawing, lantern making, storytelling, singing, percussion instrument and ukulele playing.
The workshops may have come to an end but the Arts Development team is gearing up to host St Timothy's primary school at Airdrie Town Hall in April for a large scale celebration event.
This event will see approximately 440 pupils descend on Airdrie Town Hall to evaluate and celebrate the achievements and skill learned over the course of the 18 week project and will be a fantastic end to a wonderful project.
Pupils have been able to try out art forms and work with materials they wouldn't normally get the chance to experience. A P5 pupil said: "You have really inspired me to play the ukulele, and I'm going to spend my Christmas money on one so I can keep practicing."