CultureNL Arts Team here! Welcome to the sixth edition of our new bulletins! Here's a round- up of what's been happening in our venues, as well as a look forward to our up-and-coming events.
Sign up here to keep up to date with the latest arts news via email alert.
St Timothy's Create Project goes out with a Bang
Thanks to everyone who joined CultureNL Arts in celebrating St Timothy's Create project completion, in the fun day, at Airdrie Town Hall, on 18 April.
Collecting in Town Hall, pupils enjoyed different arts activities including visual arts, music and drama workshops; while parents and teachers viewed the pupil's work showcased across the hall.
To discover more about CultureNL workshops and outreach programmes phone 01236 632828.
CultureNL Writer and Artist Gains National Recognition
CultureNL Arts is proud to note that work from one of its creative writers will be featured at the Commemorative Programme and Preliminary Hearings of the UK Infected Blood Enquiry in London.
The same individual had a poem and a related piece of artwork displayed as part of the Scottish contribution to World Hepatitis Day, on 28 July 2018, in Glasgow Museum of Modern Art event. The poem was read at the concluding session of the event and the artwork won the overall prize.
For more information on CultureNL's Creative Writing classes visit culturenl.co.uk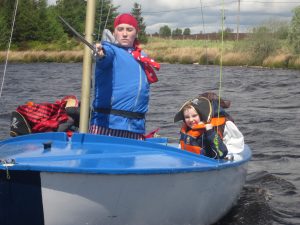 Summerlee Film Club Takes to the Water
The location has been revealed for Summerlee Museum's Film Club aquatic shoot. During the workshop 8-13 year olds will join a film tutor and instructors at Cumbernauld Sailing Club base, as they take to the open water, to capture this unique environment.
Participants will be picked up and dropped back off at Summerlee Museum at the beginning and end of the trip, and are asked to bring outdoor clothes as well as a packed lunch.
Workshop places can be booked and paid by phoning 01236 632828.
CultureNL Arts Shine in the Luminate Scotland Festival
Highlighting the health and social benefits of singing, CultureNL's Mind, Music and Soul class took to Airdire Town Hall on 14 May, for Now and Then, a performance workshop that was part of Luminate, Scotland's Creative Aging Festival.
The workshop saw tutor Suzie Bell work with senior participants to sing, play tambourine and dance.
Music struck up again, as North Lanarkshire Heritage Centre joined in the Luminate celebrations, hosting an Up the Dancin' themed Tea Dance.
Taking place in the Centre on 10 May, the dance encouraged participants to share memories of ballroom banter, while relaxing over a cuppa, or hitting the floor.
To discover more about CultureNL workshops and outreach programmes phone 01236 632828.
Boat Building Workshop Celebrates Vulcan Legacy
Commemorating 200 years since the Vulcan (Scotland's first Iron boat) launched on the Monkland canal, Summerlee Museum is hosting a ceramic boat building workshop, open 7-12 year olds, on 26 May, between 11am and 4.30pm.
Running in a series of hour and a half sessions, the workshops will allow participants to make a model Vulcan or craft a boat of their own design.
Workshop places can be booked and paid by phoning 01236 632828