Travelling Gallery's 'Patterns of Water' Project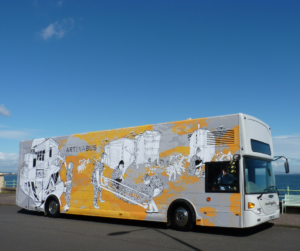 Places on this project are now fully booked.
The Arts & You team have partnered with Travelling Gallery to offer the opportunity to take part in a free and inspirational online art project.
Travelling Gallery is a contemporary art space in a bus. Their current exhibition 'Shapes of Water' was commissioned in partnership with VisitScotland's Year of Coasts and Waters. Three young artists were invited to produce new work evoking VisitScotland's theme for 2021. The videos below provide more information about Travelling Gallery, what inspired the young artists, and how you can get creative yourself with the 'Patterns of Water' project.
Introduction to Travelling Gallery
Introduction to the Shapes of Water Exhibition
Shapes of Water Creative Learning Activity
'Patterns of Water'  Remote Learning Project
In order to prepare for the project, participants will watch a film, presented by Jo Arksey (Travelling Gallery) which showcases the work of the three artists in Travelling Gallery's current exhibition Shapes of Water: Suzie Eggins, Amy Gear and Rhona Mühlebach.
An art kit will be posted to participants including guidance, materials and an activity template. Participants will be asked to create a unique hand-printed template to send back to Travelling Gallery in the franked envelope provided.
Travelling Gallery will then make up each template into a 3d molecular form which will become part of an art installation bringing together work produced in all of the geographic areas in which Travelling Gallery would have visited in 2020.
A film will be made of the final satellite artwork for you to see later in the year.
Project Dates
To engage with the project, please contact the Arts & You team by Friday 28 May (an art kit will be posted to participants). Places on this project are now fully booked.
Online talk/film screening led by Jo Arksey, Travelling Gallery on Saturday 29 May, 10am – 11.30am.
Return completed artwork to Travelling Gallery by Friday 18 June.
Inspiration
In the Shapes of Water exhibition, one of the artists; Suzie Eggins, chose to make her artworks inspired by the Japanese scientist Dr Emoto: taking his photos of water crystals as the starting point for her own series of images in the exhibition.
"What could Scottish waters look like; being influenced by our positive thoughts and emotions?"
After going on to watch a  second film showing some simple printmaking techniques, we will encourage participants to think about what Coasts and Waters and the idea of 'Shapes of Water' means to you and how you might express that creatively using some of the techniques shown.
We will also consider how our feelings affect us. We have had a year like no other and our emotions have been pulled this way and that. Our own sense of what is normal, the things we hold dear, and what is important in life have been questioned and at times turned on their heads.
Some people have struggled enormously and many have suffered terrible grief. Yet for some, the experiences of the various lockdowns, although challenging, have also offered a welcome pause for thought; even a chance to reset aspects of their life. What has helped you? What has been a positive through all this?
Suzie says: "I think it's true that, as humans, we influence our environment on a microscopic and subtle level and that water, and potentially other types of matter, is more interactive and responsive than it seems".
Do you think it might be possible to have an influence on water as Suzie's drawings and wee petri dishes might suggest?
How has your environment, even "on a microscopic and subtle way" affected the way you feel in recent times? Local rivers, canals, sea walks; just spending time beside water is something that many of us find incredibly soothing, restorative and even meditative. Wild swimming has reportedly seen a huge 287% increase in popularity since March 2020!
Perhaps because, as humans, we are made up predominantly of water; we seem to feel calmed by its natural rythms and changing patterns. So could our thoughts and feelings influence the water within ourselves?
Using the rear side of your sculpture template, share in words or drawings something positive or negative that you have noticed this year too; perhaps in relation to coasts and waters?
With the words on the inside – you can be anonymous – like when you float a message in a bottle out to sea.
Please note: places are limited and will be allocated on a first come, first served basis.