21 September – 18 November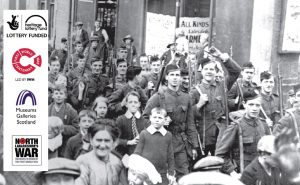 Lanarkshire's War
This exhibition explores the First World War, not only from the experience of those caught up in the horror of the front lines, but by those back at home in Lanarkshire who were also part of those catastrophic events. Using social, industrial, military and archival collections the exhibition will feature personal stories, giving a unique insight into the impact of war on all aspects of Lanarkshire's life, as well as the war front. Produced by CultureNL Museums & Heritage Service, in partnership with South Lanarkshire Leisure and Culture Museum Service, this fascinating and thought provoking exhibition is part of a four year national programme, commemorating the 100 year anniversary of the First World War.
Join us over the school October holidays for family activities.
School workshops for primary and secondary pupils are available.
Call 01236 638352 to book.