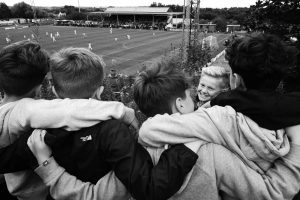 6 July – 27 October 2019
A Game of 2 Halves
As Albion Rovers Football Club celebrate 100 years at Cliftonhill Stadium in Coatbridge, Summerlee Museum presents a unique photographic study of the fans and environment surrounding the team.
The photographs featured are a social document which captures the feelings of those involved in following and organising Albion Rovers. The fans travel far and wide, help dig the snow from the pitch, organise the community events and providethe vocal support which echoes around the stadium.
The images are a selection from home and away games where photographer, Iain McLean superbly captures the spirit of those following a small club that swims against the tide and battles againstthe odds.
There will also be Football themed family activities throughout the school holidays plus a special Albion Rovers celebratory event taking place during September weekend (Friday 27 – Monday 30 September 2019).