The steel produced at Ravenscraig found its way into the manufacture of hundreds of items. Heavy steel items such as trains, ships, bridges and sheet steel items such as office equipment, vehicles and household goods; in fact you needed steel to make the moulds and machinery that fashioned the products in the first place.
The majority of the steel produced at Ravenscraig was dispatched generally into other steel finishing plants such as Gartcosh (cold-finish) Strip Mill or Dalzell Plate Mill.  However, Ravenscraig Steel will always be synonymous with particular manufacturers.
Rootes Group
The Rootes Group (later Chrysler) opened their Linwood plant in 1963, primarily to manufacture the Hillman Imp, their rival competitor to the Morris Mini. The Linwood plant closed in 1981.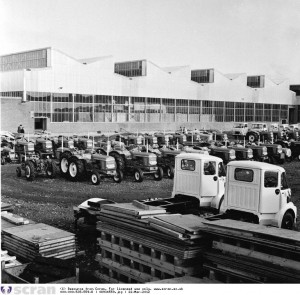 British Motor Corporation (BMC)
The BMC (latterly British Leyland) were persuaded by the then Government (as were the Rootes Group) to build new vehicle manufacturing facilities north of the border to help alleviate large unemployment figures and also in some way justify to Colville's the construction of their Hot Strip Mill at Ravenscraig, which they were initially reluctant to build. In 1961 the BMC's new Truck & Tractor plant opened in Bathgate. The plant closed in 1986.