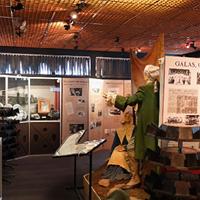 Research your local and family history of the towns and villages around Motherwell, Wishaw, Bellshill and Shotts.
Information on all aspects of the social and industrial history of the towns and villages around Motherwell, Wishaw, Shotts and Bellshill (Old Motherwell District) are held in the Local Studies Room in North Lanarkshire Heritage Centre.
A small self-service research room serving the Shotts area is also available at Shotts Heritage Centre, situated within Shotts Library.
Please book a session by completing our booking form, calling 01698 274590 or sending an email.
If you have a question about our service, please visit our frequently asked questions.
Opening hours
Visit our main North Lanarkshire Heritage Centre page
How can we help with your enquiries?
Our knowledgeable staff can assist with a broad range of local history enquiries:
The history and origins of your town and its buildings and monuments
Information on the coal, steel or iron works or any other local industry
Trying to locate a house or shop
Looking for a photograph of your street or school
Looking for a newspaper article on a local event
 Researching a student project
Whatever your query on the local area, our staff are on hand to help you find the answers you need.
Use of the Local History Collection is free of charge to visitors.
No appointment is necessary for use of the Local History Collection.
Free advice on compiling a family tree or creating a more in-depth family history for visitors to the Centre.