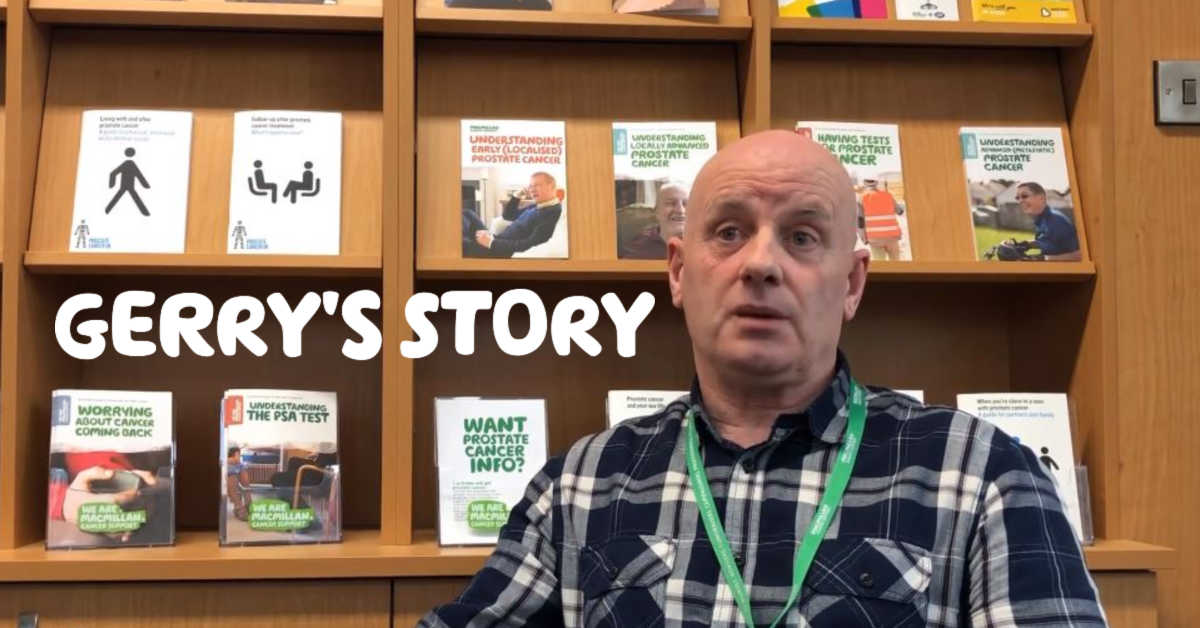 Find out the personal story of Gerry Docherty, a Macmillan in Lanarkshire Volunteer and his cancer experience.
To highlight prostate cancer awareness, Macmillan in Lanarkshire created three personal experience videos from one of our very own Volunteers. Gerry was kind enough to share his experiences of symptoms, diagnosis and life beyond his cance diagnosis. Each video is under 2 mins 30 seconds, so please take 7 mins 30 seconds out of your day to raise your awareness of prostate cancer. Watch the videos below:
Prostate Cancer Awareness – Symptoms
Some of the common symptoms experienced with prostate cancer include:
Difficulty starting to urinate or emptying your bladder.
A weak flow when you urinate.
A feeling that your bladder hasn't emptied properly.
Dribbling urine after you finish urinating.
Needing to urinate more often, especially at night.
A sudden urge to urinate – you may sometimes leak before you get to the toilet.
Visit our cancer information and support services centres to receive more information if you need it or drop us an email to macmillan@culturenl.co.uk.
Prostate Cancer Awareness – Diagnosis
Here is some more general information about the PSA test:
It is a blood test that can be done at your GP surgery.
Your doctor will advise the 'normal' PSA level for you – this is different for everyone as it is impacted by aging and the size of your prostate gland which naturally gets bigger as you get older.
Some things can naturally influence the levels of PSA in your blood, raising it for short periods of time. For example, some types of exercise like long-distance running or cycling and digital rectal examinations.
Our Cancer Information and Support Services Volunteers can provide further information about the process that will be followed for diagnosing prostate cancer or you can drop us an email to macmillan@culturenl.co.uk.
Prostate Cancer Awareness – Life Beyond Cancer
Life beyond cancer can feel isolating, getting involved with Macmillan in Lanarkshire can help:
You can help others find the information and support they need as a Cancer Information and Support Services Volunteer.
Help get people active by becoming involved in the various Move More Volunteering roles.
We appreciate any time given to help others affected by cancer so thank you if you are considering it.
Check out our volunteering pages to apply online or you can drop us an email to macmillan@culturenl.co.uk for further information.