Kirkhall Road | Newarthill | ML1 5BB
01698 732033 | newarthilllibrary@northlan.gov.uk | #NewarthillLib
Disabled Access Friendly | Free WIFI
Opening Hours
| | |
| --- | --- |
| Monday | 10am to 1pm & 2pm to 5pm |
| Tuesday | Closed |
| Wednesday | 10am to 1pm & 2pm to 5pm |
| Thursday | Closed |
| Friday | 10am to 1pm & 2pm to 5pm |
| Saturday | Closed |
| Sunday | Closed |
Library News
Tuesday 1 March 2022
Our library service are delighted to support local charity, You Are My Sunshine (YAMS), by offering them space to operate at Newarthill Library.
Newarthill Library will be utilised by local charity You Are My Sunshine (YAMS) on Monday and Wednesday evenings from 6.30pm – 9.30pm, offering support to residents across North Lanarkshire.
YAMS is a mental health and wellbeing hub that offers counselling, education courses, one to one support, therapeutic activities, and relaxation therapy. The charity opened in 2018 to provide people across Scotland a wide range of mental health services.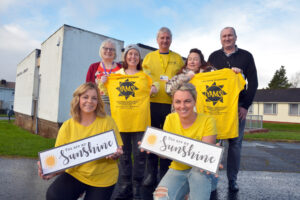 Russell Brown, Digital and Support Services Manager at North Lanarkshire Council, said:
'We are pleased to be working with YAMS and helping to support their vital work across North Lanarkshire. Being based within the library will also ensure that YAMS continues to operate in the heart of Newarthill. We are excited about the opportunity for further partnership working generated by their location.'
Rhonda Jones, Charity Founder and Manager at YAMS added:
'We are delighted to be working in partnership with NLC Libraries. We are grateful for this opportunity and also thankful to Brannock High School for supporting our premises during our initial stages. Being based at the library will allow us to grow and is an opportunity to expand our vital services. We are excited to work with NLC and support the library in the very heart of our community, serving Scotland.'
Initially, YAMS will utilise Newarthill Library as a drop-in on Mondays and Wednesdays from 6.30pm – 9.30pm. For more information on the services provided, please visit yams.org.uk, @YouAreMySunshineYAMS on Facebook and @YamsCharity on Twitter and Instagram.
Events
There are currently no in-person regular events in the library. For more information on our online events visit the libraries What's On section.
At Newarthill Library you can:
Borrow books (including large print) and talking books.
Use the internet free of charge, send emails, shop online, use PCs.
Send a fax or photocopy a document.
Scanning facilities.
Buy stamps, maps, local history publications and more.
Buy books and DVDs through our ordering service.
Look up information and use our eReference materials.
Learn how to use computers.
Borrow from our collections of books in Polish.
Borrow from our Lift Off collections to improve your reading and writing skills.
Borrow from our special Healthy Reading collection to help improve your mental health.
Downloads