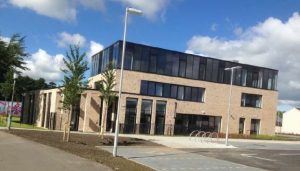 Muirfield Community Centre
1a South Muirhead Road, Cumbernauld G67 1AX
01236 632736
Newly built in 2016, this facility is located at 1a South Muirhead Road, Seafar, Cumbernauld, G67 1AX.
The centre is bursting with a variety of classes for children, young people and adults on a weekly basis. CultureNL weekly classes on offer include children's keyboard and guitar, adult guitar, adult all ability drama, calligraphy.
Please note, we are not currently running any Community Arts classes.
The centre provides a modern community and office space, split across 3 floors. There's also a landscaped greenspace with a play park and multi-use games area.
All areas are fully accessible for disabled users.  There is an accessible car park (with 88 parking spaces, including 6 disabled vehicle bays and 5 mini-bus bays).
Disabled Access
The facility is on 3 levels which are fully accessible to all.  All entrances have dropped kerbs where appropriate and wheelchair parking bays, signage and lighting design suitable for people with visual impairment.  The centre also provides appropriate access including push panel access, hearing loops and a lift suitable for wheelchair users.
Transport
Muirfield Community Centre is accessible by car and public transport.  There is a car park at the facility (no access from Brown Road), which can only be accessed from South Muirhead Road, next door to Cumbernauld Police Station.  The car park and landscape area surrounding the centre is well lit and has dropped kerbs as necessary to ensure that the centre remains fully accessible to all.
Hire of Equipment and Services
Should you require to hire different types of equipment of need specialist services for your event, please click here for further information and details on what's available.
Our Catering Services can cater for children's parties and provide tea, coffee, scones, buffets and sit down meals at events – all at very competitive prices.
Menus, costs and booking information
Cost of  Hire information, Conditions of Let and Booking Forms are all available for download from the menu on the right.