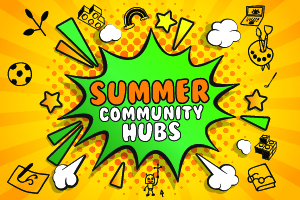 A new offer of essential support for children of key workers and vulnerable children and young people will commence immediately following the end of the summer school term (24 June 2020).
Parents and carers will be able to book day-long care, Monday to Friday at nine hub facilities and ten family learning centres that have set up specifically for the summer holiday period across North Lanarkshire for children and young people from birth to 16 years of age.
Schools that hosted hubs previously will now be undergoing a refit programme to implement physical distancing measures.
From 25 June until 10 August, there will be provision for 5-16 year old ages at nine hubs in a range of culture and leisure facilities where they will experience a range of sports, activities, arts and crafts and in ten family learning centres for babies and children up to five years who have not started school.
5-16 year old provision
The provision for 5-16 year olds will be delivered by Community Learning and Development, Culture and Leisure NL and Active Schools staff, with VANL providing volunteers to help support programme delivery, the hubs will take place in the following venues between 9am and 5pm, Monday to Friday:
Garrell Vale Community Education Centre, Kilsyth
Broadwood Leisure Centre, Cumbernauld
Airdrie Leisure Centre
Coatbridge Community Centre
Sir Matt Busby Sports Centre, Bellshill
Ravenscraig Regional Sports Centre, Motherwell
Wishaw Sports Centre
Iain Nicholson Centre, Chryston
Shotts Leisure Centre
Weekend cover – provision will only be available at Airdrie Leisure Centre between the hours of 10am until 3pm on Saturdays and Sundays.
An exciting and full learning programme devised by CLD, Active Schools and Culture and Leisure NL proposes an inclusive and flexible learning offer to the needs of children and young people. Across the hubs a range of indoor and outdoor activity will be provided including football, golf and multi sports along with dance, drama, music, visual art, storytelling, crafts and lots more.
The children and young people will also have the opportunity to work towards accreditations with CLD staff including North Lanarkshire Challenge, Dynamic Youth Awards and Youth Achievement Awards.
Every child and young person attending the hub will receive a packed lunch.
Please complete the online booking form specifically for the 5-16 year age group at northlanarkshire.gov.uk/summerhubs.
Please note – hub venues and activities may be subject to change based on attendance and will be monitored and reviewed weekly.
Early Years Hubs for children aged from birth to five (those who have not yet started primary school)
Provision for early years children aged from birth to five (who have not yet started school) will be available from 25 June until 10 August at 10 hubs for children of key workers and vulnerable families at the following venues daily, (Monday to Friday) from 8am until 6pm:
Dunbeth Family Learning Centre
Richard Stewart Family Learning Centre
Bellshill Family Learning Centre
Ailsa Family Learning Centre
Newmains Family Learning Centre
Jigsaw Family Learning Centre
Kildrum Family Learning Centre
Laburnum Family Learning Centre
Shotts Family Learning Centre
St Patrick's Family Learning Centre
Bookings can be made through the existing online booking form for children from birth to five, at northlanarkshire.gov.uk/summerhubs.