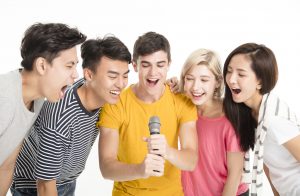 Tuesdays,  7.30pm – 9pm, Muirfield Community Centre
Thursdays, 6.15pm – 7.45pm
Summerlee Museum, Coatbridge
16+ years
£5
Do you sing in the bath? Hum along to the radio in the car? Our singing groups are perfect for honing your skills in a fun, friendly environment, to say nothing of the health benefits of singing your heart out with others!
Weekly workshops enable participants to develop their vocal ability, learn new techniques amongst likeminded people.
MIND SOUL MUSIC
Tuesdays, 2pm – 3.30pm, Airdrie Town Hall
Thursdays, 2pm – 3.30pm, Wishaw Musicworks
Fridays, 12.30pm – 2pm, Cumbernauld New Town Hall
£4.50 per session
Mind Music Soul is a weekly inclusive social group which supports people living with Dementia, as well as those who feel isolated within their community. The 90 minute sessions enable participants to sing together, listen to music, play along to songs with percussion instruments and, most importantly, meet new people, and engage in good conversation in an enjoyable and supportive environment.