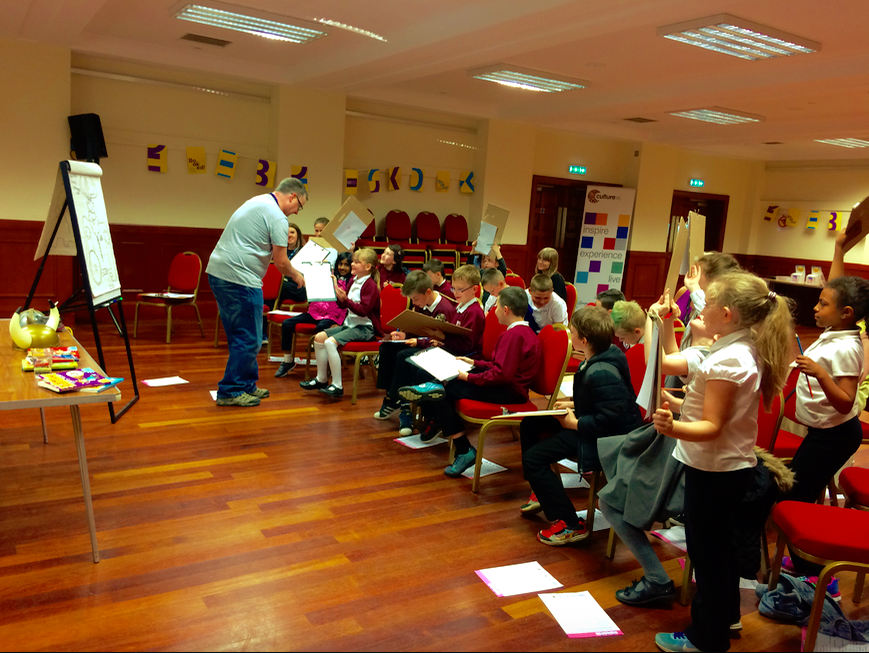 Celebrating 50 years of Cumbernauld – with fiction, arts and crafts –the ReimagiNation festival hits Cumbernauld Town Centre from 19 – 21 May. A fringe of the Edinburgh Book Festival; ReimagiNation is hosted by Culture NL in local venues, with internationally renowned artists.
Liz Lochhead, Eilidh Muldoon and David MacPhail are just some of the ReimagiNation artists, celebrating both their stories and those of Cumbernauld residents.
Author David MacPhail said: "I travel around the country a lot and this is the first time I have been to Cumbernauld. As an author, events like ReimagiNation are good because they bring you to places that don't have their own book festivals, so you get to meet people that you might not have reached before."
MacPhail began ReimagiNation with a primary school workshop on his book Thorfinn The Nicest Viking, before preparing to co-host the Big Book Bonanza with fellow children's authors Lari Don, Barry Hutchison, Mark A Smith and Jenny Colgan.
MacPhail said: "The Big Book Bonanza is well worth-while coming to; there will be lots of characters, fun and stories."
Putting the fun into reading is one of the goals for ReimagiNation festival, as MacPhail explained:
"The interactivity of my workshops gets kids drawing and asking questions. Making workshops more interactive is a way of getting kids more enthusiastic about books. If we get even a small proportion of kids reading regularly then it's a positive outcome."
Echoing this sentiment is festival attendee Stana Cepkoba, who popped in to the My Cumbernauld My Story, collage class.
She said: "My daughter Rosie and I come to Cumbernauld Library every Friday to pick up books. When we came to the library we saw the ReimagiNation Festival brochure and were excited to see something new happening in the town! It is very important to have events like the ReimagiNation festival in Cumbernauld, because it gives people a reason to think of it other than just a place to shop; it helps to build a sense of community."
Cepkoba added: "We are looking forward to the Animation with Lego and the Totem Building workshops. My daughter usually goes to art club in Glasgow, so its good to have something local for her to enjoy."
While her daughter enjoys the crafts, Cepkoba looks forward to learning more of Cumbernauld's history.
She said: "I am from Slovakia and I have lived in Cumbernauld for six years in November. I haven't lived here that long, so it is interesting to see what the town used to look like. I think it has become something very different."
Marking the town's development is the 50 Years of Cumbernauld Town Centre exhibition, open throughout the festival, in Cumbernauld Museum. The exhibition features building plans, photographs and memoirs of the original development.
Working with the exhibition, CultureNL Archivist Wiebke McGhee said: "During the ReimagiNation festival I got chatting to a family who had three generations living here in Cumbernauld. The family were one of the first to move to it as a new town, as the husband had been involved in the designing of it.
"The family saw the photographs of the shopping centre opening and remembered when Princes Margaret visited it in 1961, and she had planted a tree right outside their house."
These are just some of the memories shared in ReimagiNation festival; others will be shown in Pop Up Cinema screenings of North Lanarkshire historical footage films (in Teviot Walk throughout the festival).
Added to this the festival features a Cabaret Night, Afternoon Tea with Sue Lawrence and a UV Drawing Workshop among its many attractions. For the festival listings visit the CultureNL website.