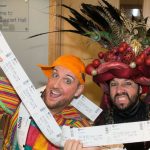 Audition Date:   Sunday 2 September 2018
Venue:                  Motherwell Concert Hall (Airbles Road entrance)
Time:                    Doors 4.15pm, audition starts 5pm prompt
Note:                     Latecomers may be  excluded
Rehearsals:        From 1 November  2018
Performances:   17 November 2018 – 13 January 2019
This year we are looking for 4 teams who will share the performances on a rotation basis.
A short routine will be taught on the day and selections for the successful teams will be chosen.
Please wear dance clothing and Jazz or ballet shoes (No trainers or bare feet)
Please bring a soft drink, water preferably and a snack.
Parents will not be permitted to watch the audition. (Parents will be able to stay in the foyer/café area)
Minimum age 6 years Maximum height 4'6 (137 centimetres) Strong 'all round' training including ballet and modern/jazz.   Great facial expression and
performance skills Children must be disciplined and committed to every performance allocated.
Under no circumstances must anyone audition unless you can commit to every date above.
Any questions, please contact Linda McDonald, on mcdonaldli@culturenl.co.uk