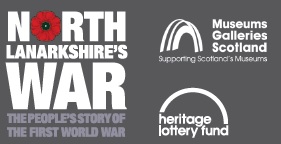 As part of the commemorations for the First World War we are offering a workshop for primary and secondary classes.
Primary
FIRST WORLD WAR: HOME AND AWAY
Second level P5-7 / £44 / 90 mins
This workshop explores the path that a soldier took from recruitment to the trenches, explaining the reasons behind the outbreak of war and the impact of those at home as well as on the fighting men. It makes use of a wide number of objects including costumes, replica weapons and documents from the period. SOC 2-01a
Secondary
LANARKSHIRE'S GREAT WAR
Third / Fourth level S1-4 / £44 / 90 mins
The First World War had a significant impact on everyone in Lanarkshire, whether they fought abroad or stayed at home. In this new workshop pupils will use museum objects and archive materials to understand how the First World War impacted on life at home in Lanarkshire. Pupils will research primary sources to discover how people in Lanarkshire were affected by the war, in their home and work life, to develop an understanding of the lasting social changes brought by the war. SOC 3-06b / SOC 4-06b
For more information and to book, please call 01236 638460.
JOHN STEWART: LANARKSHIRE'S WAR POET
Third / Fourth level S1-4 £54 outreach / £44 at Summerlee Museum / 45 mins
Funding from the Heritage Lottery Fund has enabled museum staff to uncover the story of John Stewart, a local teacher who enlisted in the Border Regiment for the First World War. John was awarded the Military Cross for bravery and published a book of poetry, before being tragically killed in battle in 1918. This workshop covers his life and poetry and can be delivered in school during a standardlesson, or as an addition to our Lanarkshire's Great War workshop at Summerlee Museum.
FIRST WORLD WAR LOAN BOX
There is also a loan box containing PowerPoint presentations, information, photographs, costumes, flags, posters, postcards and replica items which is available to hire for £55 per term. Please note that the borrower must collect and return the box.
FIRST WORLD WAR TRENCH
Summerlee Museum has an accessible trench in the grounds which can be visited during normal museums hours. To book a self-led visit, please call 01236 638460.