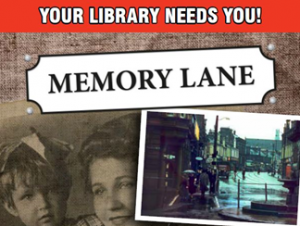 CultureNL libraries and museums welcome local residents from across North Lanarkshire for a walk down memory lane to reminisce and celebrate times gone by sharing old photographs and small domestic objects such as needlecases, postcards and ration books.
Residents are encouraged to bring along their own photographs and objects to share stories of the past and identify people and places.
 Wishaw Library , Monday 24 April 2017, 10am – 2 pm
 Motherwell Library , Thursday 11 May 2017, 10am – 2 pm
Newmains Library, Friday 12 May 2017, 10am – 2 pm
Do you have any photographs of everyday life in any of these localities that you would be happy for the library to make a copy of (returning the originals to you)? Please bring them to the library on the day, along with any small domestic objects like needlecases, cotton reels, postcards or ration books that we could keep to use in our Memory Lane reminiscence areas.
While you are there have a chat and help us identify people and places in our local photographs