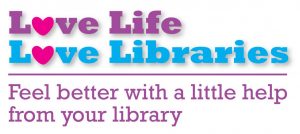 Feel better with a little help from your library and experience Love Life Love Libraries, our Health and Wellbeing week.
If you want to give us feedback on an event that you attend, feel free to drop us an email at libraries@culturenl.co.uk and tell us your thoughts.

Help us fill this page with positivity by submitting a short message about what made you love life today. Send your message and it will appear here anonymously on a brightly coloured background.
Struggling to get this form to send? Drop us an email with the details to libraries@culturenl.co.uk.