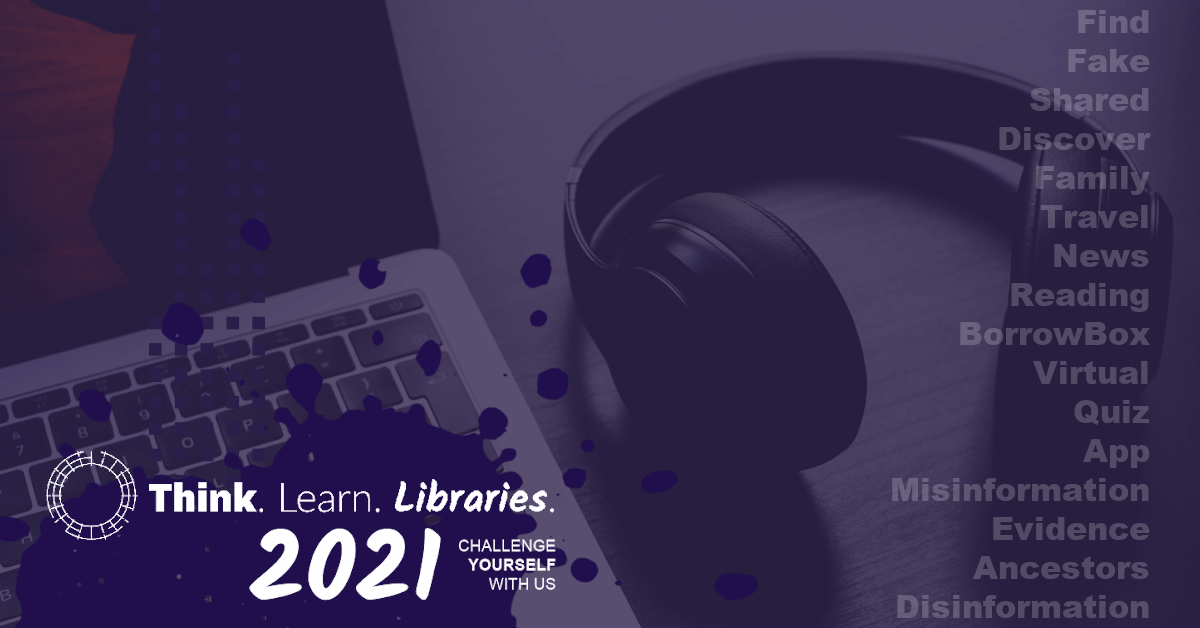 Challenge yourself to learn with Think. Learn. Libraries.
Monday 19 April – Friday 23 April 2021
Everyone likes to learn new skills or challenge their knowledge. We're bringing you some online learning opportunities to do just that.
Share your experiences of Think. Learn. Libraries. with us as well on Twitter using #ThinkLearnLibraries. What did you think? What did you learn? Let us know.
Find the right learning opportunity for you:
Our Think. Learn. Libraries. programme has a varied set of opportunities including family history, fake news workshop and virtual travel. Check out the listing below to sign up to the event that you are interested in.
Think. Learn. Libraries 2021 Programme:
Sign up for sessions by completing the signup forms below.
---
Discover BorrowBox
Monday 19 April, 4pm
Platform | YouTube
If you haven't discovered BorrowBox, this is your chance to get a quick rundown of all of the main features and a look at how the app works. Join our E-Services Librarian on YouTube for this video presentation of the eLibrary service.
Video Link: https://youtu.be/Os4SpsqYKT4
---

---
Finding the Evidence
Tuesday 20 April, 2pm
Platform | Webex
Join our family history expert on Webex to find the best ways to discover if your ancestors and relatives are who you say they are. A perfect way to get started unravelling the truth behind your family's past.
Sign up here:
---
Fake News! Misinformation and Disinformation
Wednesday 21 April, 11am
Platform | Teams
The fake news phenomenon has gripped the world in recent years, whether in politics or more recently with public health. Join our staff for a workshop discussing the phenomenon, disinformation and misinformation in the pandemic and strategies to discern good quality information.
Sign up here:
---

---
Think. Learn. Libraries. Quiz Time
Wednesday 21 April, 2pm
Platform | Webex
Everyone enjoys a quiz, and we've all become experts at the online quiz. Join our quizmasters Judy and Drew for a chance to prove your general knowledge is better than the rest and grab the Think. Learn. Libraries. Quiz Time crown.
Sign up here:
---
Shared Reading
Thursday 22 April, 2pm
Platform | Teams
Relax with a member of our team and listen to a short story or poem read aloud. Throughout and afterwards you get the opportunity to discuss if you want to. Otherwise, you can just enjoy hearing a good tale or two. Don't forget to bring your tea and biscuits too.
Sign up here:
---

---
Virtual Travel
Friday 23 April, 2pm
Platform | Teams
Travel abroad this summer still remains doubtful. That doesn't mean we can visit faraway places virtually though. Can we manage to get around the world in 40 minutes? Only one way to find out. Join our digital expert to get some fantastic ideas on where and how to visit places virtually while we still have travel restrictions.
Sign up here:
---