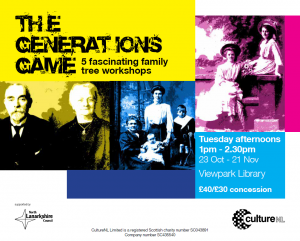 Explore your family tree over 5 fascinating and friendly workshops

Go on the voyage of a lifetime using birth, death and marriage certificates, census returns, cemetery and poor relief records.
Hints and tips on how to dig up the past using online resources and mobile apps.
Tuesday afternoons
1pm-2.30pm
24 October – 21 November
Viewpark Library
Tea/coffee provided after each session. Stay on and discover more in our search room.
£40/£30 – include family history chart
For further information and booking contact: 01698 274595 or email Margaret on mcgintym@culturenl.co.uk