Literature and poetry of course plays a central part in our understanding of the First World War conflict, and for the people of North Lanarkshire this is especially true.
Home to some of the nation's most historic libraries, the North Lanarkshire area is steeped in Scotland's wider literary traditions and its libraries played a key role serving their members both at home and abroad on service during the conflict.
Throughout the commemorative programme, our modern-day libraries will be hosting many events including author talks, dedicated displays and book group seminars focussing on the conflict and our communities' roles in it.
Here is what we have in store in the coming months:
Book Group Big Read
Each month, North Lanarkshire Libraries host more than 20 book groups per month. As part of the North Lanarkshire's War project it is planned that each book group will all read a First World War-related title in September. This will be the second area-wide co-ordinated read that North Lanarkshire Libraries book groups will have taken part in for the project.
Interested in First World War fiction? Here is just a small selection of titles that our book groups could be reading this September?
William Boyd – Waiting for Sunrise
John Boyne – The Absolutist
Ben Elton – Time and Time Again
Sebastian Faulks – Birdsong
Adele Geras – Out of the Dark
Michael Morpurgo – War Horse
Anita Shreve – The Lives of Stella Bain
To find out more about book groups near you, visit here.
'A Woman's War' First World War open day
Airdrie Library Saturday 26 September
Join us as our Great War 'participants' take us through the stories of woman at war, both on the homefront and on the frontlines. Suitable for all ages – no booking necessary.
Class Visits & Resource Pack
 Libraries NL have developed a series of class visits with an accompanying resource pack to commemorate the First World War.  The visits are aimed at pupils in P4 to P7 but can be adapted to suit younger children.  Themes looked at in the pack include Games from the Past, Code Breaking, The Home Front and an Adventure Game.  There is also information on novels that can be used to support the topic.
 For more information please contact either Alison Walsh, Library Educational Services Manager at WalshA@culturenl.co.uk  or Judy McGuire, Community Librarian (Airdrie) at McGuireJu@culturenl.co.uk
Author event: 'Objectors & Resisters' with Rob Duncan
Airdrie Library, 2.00pm. Wed 28th October
Join one of Scotland's foremost social historians as he uncovers the nation's history of conscientious objection during the First World War conflict, and how attitudes to anti-war protesting and opposition to conscription moulded the Scottish wartime experience. Part of the Encounters Cultural Festival – suitable for all ages. Free entrance.
Previous Events
Catherine MacPhail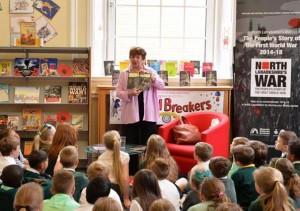 As part of the continued commemorative programme, acclaimed Scottish children's author Catherine MacPhail visited Motherwell Library to talk to primary school children from Cathedral Primary. On what was a fantastic event, Catherine discussed her First World War novel 'Stars Shall Be Bright', a poignant and moving story of one small family caught up in the consequences of World War One, with 75 children.
Catherine had them all enthralled as she talked, encouraging them to use their imagination to solve mystery scenarios. She also talked to them about her writing and tried to inspire them to write.