28 March – 3 June
Monklands Poets' Corner
 Airdrie Community Health Centre
Monklands poets' Corner exhibition showcases work by various poets including the work of author and poet, Janette W. Horn and poet, Tony Wilson, known as The Rawyards Bard. Other forms of artwork, by local Monklands artists are also displayed including work by Iain N.R. Johnston.
Illustrated poetry is a great way to make poetry more accessible and to encourage others to get involved.
This exhibition is a follow on from the previous exhibition by 'Men with Pens', which has now become Airdrie Creative Writing Group.
The Monklands Poets' Corner meets on a Saturday, once a month, at Summerlee Museum of Scottish Industrial Life, Coatbridge, from 1pm to 3pm and anyone is welcome to come along.
---

Airdrie Town Hall
20 March – 10 June
St Timothy's Primary School Coatbridge – Create
This exhibition showcases the fantastic work produced by children, primary 1 to primary 7 from St Timothy's Primary School, Coatbridge. The school worked in partnership with CultureNL's Community Arts Team who delivered a multi-arts project in the school between August 2018 and March 2019. Through this unique project, every child in the school enjoyed a huge range of experiences through visual art, drama and music. Documentary images of the project and a display of art-work illustrates their inspiring creative journey.
---
Bellshill Cultural Centre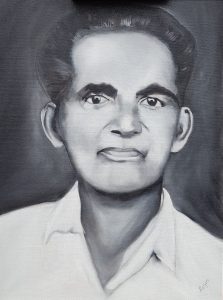 15 May – 31 July
Renjini Smith
An unmissable presentation of work by local Bellshill artist, Renjini Sujith, who describes herself as a self taught artist.
"I am a person who loves to work towards my dreams and make every effort to make it happen. Painting is my passions, my emotion and I spend a lot of free time playing with colours and creating my paintings."
Working mainly win oils, Renjini enjoys landscape, seascape and portrait painting. This exhibition offers an impressive selection of her on-going practice.
---
Motherwell Concert Hall and Theatre Cafe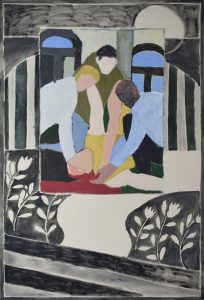 13 May – 29 July
Harry Clitheroe
A recent graduate of Glasgow School of Art in 2018, Harry Clitheroe's paintings are primarily concerned with the relationship between figuration and abstraction. Using film stills, mainly from the horror film genre, new narratives are generated. Figures are taken from multiple images and are places within new, reconstructed contexts. Harry says of his work.
"The process of painting itself further abstracts the picture. Bodies and objects become abstract forms and the application of colours and shapes further confuse the nature of the pictorial image. This allows the viewer to fabricate their own imagined idea of what is taking place."
---
Schools Outreach Programme for Exhibitions
Selected exhibitions offer student groups inspiration, together with hands on workshops provided by a professional artist. These kinds of sessions can offer the student a great insight into the artist's work and a range of activities that stimulate and inspire. If you are interested in taking part in workshops related to the forthcoming exhibition programme, please call 01236 632828.