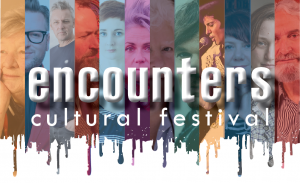 Olivia MacDonald
Monday 2 – Tuesday 31 October
Bellshill Cultural Centre
Mon 9am – 5pm, Tues 9am – 7pm, Wed 9am – 5pm, Thurs 9am – 7pm, Fri 9am – 5pm, Sat 10am – 5pm, Sun Closed
Olivia MacDonald graduated from the Painting and Printmaking Department of Glasgow School of Art in 2016. Central to her art practice is working observationally from life. She is interested in the immediacy of the intuitive response which comes through drawing from life. Olivia says, "I feel drawing is an activity closely linked to the sense of touch, through the performative movement of the body establishing a sensory and spacial sense of contact with subject and place, and in the tactile response of the material used, reflective of the process."
Olivia is interested in exploring this sense of connection and intuitive expression found through the material process of drawing to reflect one's relationship to the world.
Terry Watson – My Journey from Reader to Author
Wednesday 4 October
Bellshill Cultural Centre
1pm – 3pm approx.
16+ years
Free
Terry Watson will host an informal workshop sharing her knowledge and insight of the journey into writing and publishing. She will share some short extracts from a selection of her five books and talk about the importance of research, proof reading and editing.
This event is free, but please book by calling 01236 856225 or email encounters@culturenl.co.uk.
An Afternoon with Lorna Gibb and the spirit of Katie King
Saturday 7 October
Bellshill Cultural
Centre
2pm – 3pm
16+ years
Free (ticketed)
A native of Bellshill, Lorna Gibb is the author of acclaimed biographies on Lady Hester Stanhope and Dame Rebecca West. Her first novel, 'A Ghost Story', was recently published to similar praise. Inspired by the Victorian interest in spiritualism, we follow the spirit of Katie King, who was supposedly channelled by mediums at séances in both Europe and America. In this special event, Lorna will discuss her work and the links between biography and fiction, and of how the reader both adapts and develops these ideas further. Join us for an afternoon in the company of one of Scotland's most remarkable new literary talents.
Follow @LornaGibb on Twitter. This event is free, but please book by calling 01698 346770 or email encounters@culturenl.co.uk.
Introduction to Coding for Adults
Tuesday 24 October *please note a change in date from the brochure*
Bellshill Cultural Centre
10.30am – 1pm
16+ years
Free
Coding isn't just for kids. Let us introduce you to some computer programming activities to challenge your brain and get your problem solving skills working in new ways. No experience is necessary, in fact, no experience of coding is encouraged for this session. However, knowledge of using a mouse and a keyboard would be helpful. Places are limited so book early.
To book, please call 01698 346770 or email encounters@culturenl.co.uk.
Mushaira
Friday 13 October
Bellshill Cultural Centre
7.30pm – 9.30pm
16+ years
Free
In conjunction with the Scottish Mental Health Arts and Film Festival and Bazm-e-Urdu Scotland, we are delighted that Mushaira returns to Encounters. Mushaira or, Urdu poetry, is an in important aspect of South Asian culture, and can trace its roots back to the Mughal empire. The evening provides both the poets and the audience an opportunity to voice their thoughts and allows an outlet for emotional awareness and self-expression. This event is open to the community, so come and sample a taste of South Asian culture in Bellshill. As is traditional, a buffet will be served after the event.
For more information, call 01698 346770 or email encounters@culturenl.co.uk.
Yehinksi Theatre Presents DRINK Written by Bobby Bulloch
Saturday 14 October
Bellshill Cultural Centre
8pm
Free
Combining Film and Performance, 'Drink' is a unique theatre experience which presents an extreme case of dysfunction, while pointing straight at the more widespread condition which, insidiously, escapes attention for being more moderate. Monday morning after a heavy weekend. Good time for self reflection? Maybe not. Maybe best just taking another drink. I mean, who wants to take a right good look at themselves really?
FREE but must be reserved by calling Well Informed on 0800 0730918
Geez a Break Theatre Company presents On Any Given Night………….. Written by Liam Lambie
Friday 20 October
Bellshill Cultural Centre
7pm
Free but must be reserved 'On Any Given Night…' focuses on one of the most vulnerable groups of people in today's society, the homeless, and tackles the stigma attached to that title. Set over the course of another busy Saturday night in Glasgow city centre – a group of four very different people gather together to help each other survive another gruelling night on the streets of the city armed with only their banter, wit and hope.
To book tickets call 0800 0730918
Family Portraiture
Saturday 21 October
Bellshill Cultural Centre
11am – 12pm
Suitable for all the family (under 7 years must be accompanied by an adult)
Free
An artist led session with a focus on family portraiture. Compose and make your own unique image that represents your family. With an array of creative materials at your disposal… draw it, stick it, colour it… and make your family a stand out!
No booking required
Allison Galbraith
Saturday 21 October
Bellshill Cultural Centre
2pm – 3pm
Free
Allison Galbraith is a storyteller who loves telling stories about Scottish folktales. Allison's animated and engaging storytelling style is hugely popular with children and adults alike. Her events are always most enjoyable, highly interactive with audience participation encouraged. Suitable for all ages, come along for an uplifting and fun event.
To book, please call 01698 346770 or email encounters@culturenl.co.uk.
NL Studio Proudly Presents The Lost
Saturday 28 October
Bellshill Cultural Centre
7pm
Tickets £6/£5 Concession
They say those who are lost are the lucky ones, and it's those that are left behind to do the searching that suffer most. The Lost tells the tale of one family's search for their loved one. Hope, trust and courage are aplenty, but success…is anyone's guess.
To book tickets call our box office on 01698 403120 or visit www.culturenl.co.uk