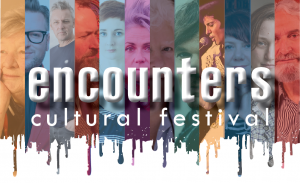 Military Lives, Then and Now
2 – 31 October
Airdrie Town Hall
Mon – Thurs 9am – 7pm, Fri 9am – 5pm, Sat 10am – 5pm, Sun Closed
North Lanarkshire's War presents "Military Lives, Then and Now", a photography project working with current service personnel and veterans. Photographer Allan Bovill documented all of the participants in the style and costume of the 1910s, and then again in a contemporary style. This unique perspective of the lives of the military community now and then is part of the wider North Lanarkshire's War project, commemorating the 100 year anniversary of the First World War.
Yum! Food Glorious Food…..
2 – 31 October
Airdrie Community Health Centre
Mon – Fri 9am – 5pm, Sat and Sun Closed
This exhibition is the result of a schools' based photography project, which took place in 2016 as part of Encounters Festival. Working with a professional photographer, North Lanarkshire school pupils explored the world of food, taking a documentary/photo journalism angle. The project presents a record of food in a typical school day. The main question asked throughout the project was, "Is food used, abused or enjoyed".
Strictly Stretch goes to the Musicals
Wednesday 4 October
Airdrie Town Hall
10.30am – 11.30am
50+ years
£4/£3.50 Concession
Come along to one of our regular Strictly Stretch classes, as they indulge in some West
End Musical Theatre inspired moves – come and join the cast!
This is a drop-in activity – no booking required.
Spooky Drama Hallowe'en Workshops
Monday 9 October
Airdrie Town Hall
5 – 8 years (4pm – 5pm), 9 – 12 years (5.15pm – 6.15pm)
£4.50
Join in on one of our regular children's drama classes and give acting a go. It's a great way to find out if you'd like to become part of our Children's Theatre family. During this spooky week, we will be having all sorts of ghoulish good fun!
This is a drop-in activity – no booking required.
Dramatic Animation
Monday 9 October
Airdrie Town Hall
6.30pm – 8pm
13+ years
£4.50
Come and join a CultureNL Youth Theatre group and get all dramatic in an animated sort of way! Dip your toe into the world of film-making and work with an experienced animation artist in this short evening workshop; create backdrops, characters and bring stories to life through the animation process that includes sound and music.
Advance booking required as places are limited.
Call 01236 632828 or email arts@culturenl.co.uk
Premier British Wrestling
Saturday 14 October
Airdrie Town Hall
7.30pm
Front Row £20.00 / Adult £13.00 / Concession £10.00
Premier British Wrestling returns to Airdrie Town Hall on Saturday 14 October for what promises to be another evening of top quality entertainment suitable for the whole family. Top British stars such as PBW Champion BT Gunn, Jack Jester, Liam Thomson and Airdrie's own Kenny Williams are all confirmed for action. PBW shows are suitable for the whole family, any American wrestling fan will have a fantastic time and as always, everyone in attendance will have a chance to meet their favourite PBW stars at the end of the show.
To book, call 01698 403120 or visit culturenl.co.uk
Louise Hutcheson presents: The Paper Cell
Thursday 19 October
Airdrie Library
7pm – 8pm
16+ years
Free (ticketed)
Local girl, Louise, may be familiar to regular library customers. Once upon a time, she was a library assistant with CultureNL! Louise will be joining us to discuss her debut novel, 'The Paper Cell'. From the publisher of Graeme Macrae Burnet's 'His Bloody Project', 'The Paper Cell' is the first in the new Pocket Crime Collection, an occasional series of quality crime novellas with a decidedly retro feel. In 1950s London, a literary agent finds fame when he secretly steals a young woman's brilliant novel manuscript and publishes it under his own name, Lewis Carson. Two days after their meeting, the woman is found strangled on Peckham Rye Common; did Lewis purloin the manuscript as an act of callous opportunism, or as the spoils of a calculated murder? Join us as we welcome one of Scotland's most intriguing new literary voices to Encounters.
This event is free, but please book by calling 01236 758070 or email encounters@culturenl.co.uk.
Reading Allowed – True Stories and Curious Incidents from a Provincial Library
Friday 20 October
Airdrie Library
7pm – 8pm
16+ years
Free (ticketed)
Join us for this warm and fascinating portrait of a place many of us value and cherish, but which few of us truly know very much about. Chris Paling works as a librarian in a small-town library and 'Reading Allowed' is the story of the building, its staff and the absorbing cast of characters who frequent it. From street sleepers like Brewer and Wolf, eccentrics such as Startled Stuart, difficult customers such as The Mad Hatter to genuine one-off characters such as Trish the marriage obsessive, Chris paints a picture of the library as the village pump at the very centre of our shared lives and communities. While the stories he encounters are often tragic, amusing and surreal, they bring the concept of libraries themselves into sharp focus and show that such facilities are one of the few places left where anyone can wander in to find someone to share the time of day with. Chris will be interviewed by Jane Graham, in CultureNL's own historic Airdrie Library.
This event is free, but please book by calling 01236 758070 or email encounters@culturenl.co.uk.
Malcy Duff
Saturday 21 October
Airdrie Library
11am – 12noon
Free
Malcy Duff is a comic artist who works with all ages. He has worked around the world encouraging people with mixed experiences of comic book art to create their own work. At this workshop event, he will be encouraging everyone to create their own comic book story. Don't worry if you have never done this before, Malcy will be on hand to guide you through it. Suitable for all the family, don't miss out on this unique opportunity.
This event is free, but please book by calling 01236 758070 or email encounters@culturenl.co.uk.
David Keenan Presents 'This Is Memorial Device'
Monday 23 October
Airdrie Library
7pm – 8pm
16+ years
Free
The place is Airdrie. The year is 1983. Memorial Device, the best band that never existed, are about to change everyone's lives forever. 'This is Memorial Device', the debut novel by David Keenan, is a love letter to the small towns of Lanarkshire in the west of Scotland in the late 70s and early 80s, as they were temporarily transformed by the endless possibilities that came out of the freefall of punk rock. Written in a series of hallucinatory first-person, eye-witness accounts capturing the prosaic madness of time and place and heady with the magic of recalled youth, the novel conjures a cast of misfits, artists, drop-outs, small town visionaries and musicians in a time where anything seemed possible – a moment where art and the demands it made were as serious as your life. This is Scotland. This is Memorial Device.
Join us for this unmissable Festival event with one of the country's boldest new literary
voices.
Follow @reversediorama on Twitter To book, call 01236 758070 or email encounters@culturenl.co.uk.
Edward Reid
Wednesday 25 October
Airdrie Town Hall
2pm and 7.30pm
Adult £12 / Concession £10
Enjoy an intimate afternoon/evening with Edward Reid as he entertains you with some of his favourite songs. From Broadway to Hollywood with inspiration from Barbara Streisand and Neil Diamond, Edward's eclectic mix of power ballads and classic tunes will leave you feeling good and in the mood to dance your way out of the theatre!
To book, call 01698 403120 or visit culturenl.co.uk
Roddy Woomble
Friday 27 October
Airdrie Town Hall
7.30pm
£15
He toured the world as frontman of Scottish indie giants, Idlewild, and established himself as a leading voice in the thriving British contemporary indie folk music scene.
'Tender and epic, enormous yet touching'. BBC Music
'A moving and quietly joyous collection of pieces, weaving together strands of folk, jazz and country. Frankly, it sounds like he decided to turn his back on the modern world.' – The Guardian.
To book, call 01698 403120 or visit culturenl.co.uk