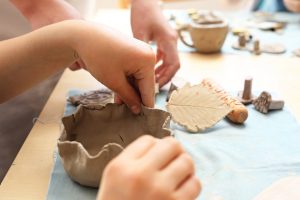 KIDS VISUAL ARTS & CRAFTS CLASSES
Tuesdays, 4pm – 5.30pm, Charlotte Toal Centre, Coatbridge
Wednesdays, 4pm – 5.30pm, The Link, Cumbernauld
Wednesdays, 6.15pm – 7.30pm, Gartcosh Community Centre
Thursdays, 5pm – 6.30pm, Bellshill Cultural Centre
Thursdays, 6pm – 7.30pm, Airdrie Town Hall
7+ years
£6 (all materials supplied)
A wide range of arts activities is on offer including drawing, painting, clay modelling, sculpture making and printmaking.
CRAFTY KIDS CERAMICS CLASSES AT PATHER ARTWORKS
Tuesdays, 4pm – 5pm
Pather Artworks, Wishaw
8+ years
£5.50 (all materials supplied)
Fun, skills based weekly classes that offer drawing, painting, sculpture and ceramics. Enjoy some hands on creative fun!
CRAFT HOLIDAY ACTIVITY FOR CHILDREN AND YOUNG PEOPLE
DAY OF THE DEAD INSPIRED CERAMICS WORKSHOP
Monday 14 & Tuesday 15 October, 10am – 1pm
Pather Artworks, Wishaw
7 – 12 years
£21 for 2 days
Have a fun filled couple of days at Pather Artworks creating some amazing Mexican inspired Day of the Dead ceramics. Use the Pixar film Coco for ideas to create skulls, skeletons and other Mexican folk art themes.