Calligraphy Short Course – Intermediate
16+yrs     £85/£75
Starts Monday 14 January
This 10 week course will further develop the hand-lettering skills of those who have completed the Beginner's Calligraphy course or who already have a good understanding of calligraphy techniques.
A knowledge of the Foundational and Italic alphabets is essential. You will learn how to produce the Uncial and Versal alphabets, and discover how the principles of calligraphic layout and design will improve all your calligraphy projects, through the use of contrast and focal points.
Tutor and calligrapher Duncan Tolmie, will enhance the learning process through one-to-one demonstrations, and will share various tips, tricks and techniques, useful to anyone wishing to improve their calligraphic skills. Visit calligraphicartservices.com for examples of the tutor's work
| | | |
| --- | --- | --- |
| Mondays | 7pm – 9pm | Muirfield Community Centre, Cumbernauld |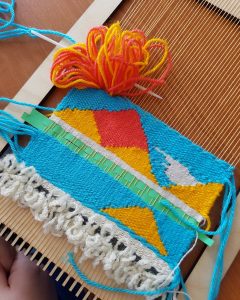 The Wonderful World of Weaving
16+yrs    £30/£27.50
| | | |
| --- | --- | --- |
| Saturday 16 March 2019 | 10am – 4pm | Reigart Suite, Summerlee Museum, Coatbridge |
Discover the creative and therapeutic art of hand weaving over the course of a one day workshop. Led by textile artist Amy Bond, participants will learn how to set up a hand frame loom on which to practice essential weaving techniques, such as plain weave, twills, herringbone, basket weave, hand manipulated structures and tapestry. Participants will create textures and patterns using a variety of exciting yarns and materials, and will be encouraged to freely experiment with shape and colour. This workshop offers participants the opportunity to relax and learn about the wonders of weaving, whilst creating finished woven pieces to make a wall hanging to take home.
After Hours at the Museum
15+yrs    £10/£9 Concession
| | | |
| --- | --- | --- |
| Thursday 21 March 2019 | 6pm – 8pm | Summerlee Museum, Coatbridge |
Enjoy an after-hours evening in Summerlee Museum to explore the lighting environment. Led by one of CultureNL's photography tutors you can explore the character of the museum of its objects, learn how to use natural evening light creatively and introduce balanced portable flash or constant source lights for added effect.
Family Fun – Pooch photos – For Families With Or Without Dogs!
All ages welcome    £15 per family
| | | |
| --- | --- | --- |
| Monday 6 May 2019 | 11am – 3pm | Summerlee Museum Photomedia Studio |
Join our photography tutors for a family friendly studio photo session with two very cute dogs, or bring your own family favourite. Get some top photo tips on how to take great family pet images in the studio with our cute models, Bonnie and Poppy. Please note, and adult of 18+yrs must accompany children at all time. Maximum sessions are 30 Minutes per family.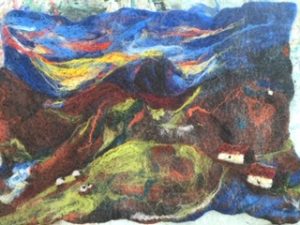 Fabulous Felt Making
16+yrs     £30/£27.50 Concession
| | | |
| --- | --- | --- |
| Saturday 18 May 2019 | 10am – 4pm | Reigart Suite, Summerlee Museum Coatbridge |
Explore the beautiful craft of felt-making in this artist led, one day masterclass, with textile artist, Liane Clarkson. Learn how to design and sculpt a unique needle felted landscape or pet portrait, using a variety of vibrantly coloured of merino woo;. Sheets of felt will be rolled, folded and attached seamlessly to create a unique artwork to take home. As a finishing touch, embellish with decorative details using applique techniques and additional craft materials.
Photo Field Trip – Falkirk Wheel and Callendar House and Park
14+yrs    £10
| | | |
| --- | --- | --- |
| Thursday 4 June 2019 | 10.30am – 3.30pm | Summerlee Museum Photomedia Studio |
Leaves from and returns to Summerlee Museum, Coatbridge.
Accompanied by one of CultureNL's photography tutors, get some expert tips on photographing outdoors around the unqieu structure of the Falkirk Wheel and the historical building and grounds of Callendar Hosue and Park.
Advance booking and payment is essential for workshops and courses as places are limited. Pelase call 01236 632828 or email Arts@culturenl.co.uk
You can pay with most credit and debit cards.